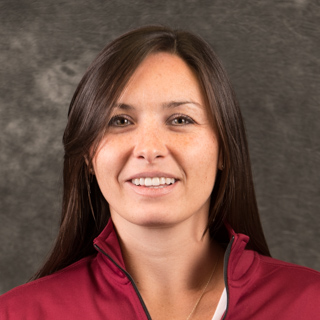 Head Coach
Sarah Lautenbach
Sarah Lautenbach, who has spent the past five years as an assistant women's lacrosse coach at Fresno State University (Calif.) of NCAA Division I, has been selected as the first head coach of women's lacrosse at Willamette University. Lautenbach will begin her duties on the Willamette campus in August. The Bearcats will start competing in women's lacrosse in the spring of 2019 in NCAA Division III.
"We are very excited to have Sarah joining our Bearcat family, Willamette Director of Athletics Rob Passage said. "With her passion for the sport of lacrosse and commitment to student-athlete development, she is the perfect person to lead our new program."
Lautenbach will oversee the start of Willamette's women's lacrosse team. She will recruit players during the 2017-18 academic year, with plans for the team to play its first season in 2018-19 as a member of the Northwest Conference.
"I am so honored and beyond excited to be named the first head women's lacrosse coach for Willamette University," Lautenbach said. "I am eager to start building a program that matches the tradition of excellence that is already in place."
With Whitworth University also planning to begin women's lacrosse competition in 2019, the NWC will have seven teams playing the sport, and the conference will be eligible for an automatic bid into the NCAA Division III Tournament. Current NWC members with a women's lacrosse team are George Fox University, Linfield College, Pacific University, University of Puget Sound and Whitman College.
"It has been a dream of mine to start a new program, especially out West," Lautenbach commented. "While it comes with the obvious challenges, that is what makes this opportunity so unique and rewarding. It is my objective to immediately establish a team culture and goals that will set the foundation for the program.
"With youth lacrosse participation rates vastly rising in Oregon and other Western states, it is an exciting place to start a collegiate program. It also creates an ideal environment and an attainable reality for young female athletes who wish to pursue lacrosse at all competitive levels," Lautenbach added.
Lautenbach joined the Fresno State coaching staff as an assistant coach in July of 2012. She was promoted to first assistant coach in 2014. She also became the team's defensive coordinator. Lautenbach helped Fresno State earn its first winning record this spring, as the Bulldogs went 9-7. In her first season in 2013, FSU set a team record with 212 groundballs. The Bulldogs began competing in women's lacrosse in 2009.
Prior to being an assistant at Fresno State, Lautenbach was the head coach of women's lacrosse for two seasons at Holy Family University (Pa.), which competes in NCAA Division II. She improved the team from 0-12 in the year prior to her arrival to a 10-7 record during her first season in 2010, as the Tigers led Division II with a +10 improvement in wins. HFU earned a berth in the Central Atlantic Collegiate Conference in 2010 and 2011.
Lautenbach was a volunteer assistant coach at Drexel University (Pa.) of NCAA Division I for the 2012 season. Drexel qualified for the Colonial Athletic Association Tournament.
"I am grateful for everyone in the Fresno State athletic community and so many others for encouraging my growth as a coach and their ongoing support in my pursuit to be a head coach again," Lautenbach said.
Lautenbach received a Bachelor of Science degree from Old Dominion University in 2007 with a major in Criminal Justice (Pre-Law) and a minor in Sociology. While attending ODU, she was a starting midfielder on the women's lacrosse team, which competes in NCAA Division I.