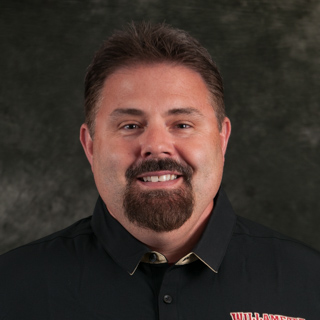 Glen Fowles enters his fifth season as the head coach of the Bearcats in 2016. It is his 21st season on the Willamette University coaching staff. He owns a 22-15 record as the team's head coach.
Fowles was Willamette's assistant head coach, offensive coordinator (14 years) and offensive line coach. He also has served as the team's strength and conditioning coordinator. Prior to coaching at Willamette, he played two seasons for the Bearcats as an offensive lineman.
"For me, Willamette University is home," Fowles said. "I have met a lot of great people and made many friends in my time at Willamette. I am a product of Willamette and have a passion for this place that transcends football. At this time, I couldn't imagine anyone else being the head coach of this football team."
In 2014, the Bearcat went 5-4 overall, 3-4 in the NWC (5th place tie), including a 31-28 road victory against archrival Linfield College, ranked #2 in NCAA Division III at the time. Running back Dylan Jones rushed a school record 98 yards for a touchdown against Linfield.
Jones also set the a school record with 1,599 rushing yards during the season. He scored 18 touchdowns and averaged 177.7 yards per game. He finished his career with 2,857 rushing yards, just two yards short of the Willamette record. Jones was one of four finalists for the Gagliardi Trophy with goes to the top player in NCAA Division III each season.
During the 2013 season, Fowles led Willamette to a 7-2 record, including 4-2 in the NWC. The Bearcats were 15th in NCAA Division III in scoring offense with 41.1 points per game and ranked 19th in total offense with 471.9 yards per contest. The Bearcats were 17th in the nation in passing efficiency with a team rating of 153.89.
Willamette was ranked #25 in the final regular season poll of 2013 as released by the American Football Coaches Association (AFCA).
In his first season as head coach in 2012, he led the Bearcats to an 8-2 overall record and a 4-2 mark in the NWC. Willamette ranked fourth in the nation in passing offense with 355.0 yards per game. The Bearcats were 10th in the country in total offense with 498.1 yards per game and 15th in scoring with 39.6 points per game.
Fowles has coached five offensive linemen who have earned All-America honors a total of eight times. Brandon Bennett was selected All-America three times (2005, 2006 and 2007) and Billy Joe Murray was named All-America twice (2002, 2003).
During his years on the coaching staff, Fowles has helped Willamette achieve a combined record of 126-77 (.621). The Bearcats qualified for the NAIA Division II Playoffs in 1996 and 1997, and competed in the NCAA Division III Playoffs in 1999, 2004 and 2008. Willamette lost in the NAIA national championship game in 1997. Willamette has earned a 70-41 (.631) record in the Northwest Conference over the past 20 seasons.
Fowles was the offensive line coach for the Bearcats in 1996 and 1997, before adding offensive coordinator duties in 1998. Fowles was named national Coordinator Coach of the Year in 2008, when Willamette went undefeated during the regular season and finished the year 11-1 after qualifying for the NCAA Division III Playoffs. In 2008, WU set school records with 498 points scored and 69 touchdowns.
Willamette averaged at least 200 rushing yards per game during 13 of the 14 years that Fowles served as the offensive coordinator. The Bearcats ranked in the Top 20 in NCAA Division III 12 times.
A native of Canada, Fowles played American football at Westsyde Secondary School in Kamloops, British Columbia. He attended College of the Siskiyous in Weed, Calif., for two seasons of junior college football. He was recruited in part by Dan Hawkins, who later became Willamette's head coach. Fowles also spent a medical hardship season at Central Missouri State University in Warrensburg, Mo.
Fowles came to Willamette as a transfer student in 1994 and started two years at offensive tackle. He was named Second Team All-Conference as a junior and was drafted by the Ottawa Roughriders of the Canadian Football League.
He chose to return to WU and was chosen Honorable Mention All-NWC as a senior despite missing half the year with a broken leg. He earned a Bachelor of Science degree in Exercise Science from Willamette in 1996. Fowles and his wife, Rochelle have a son, Gavin, age 7, and a daughter, Raegan, 5 years old.