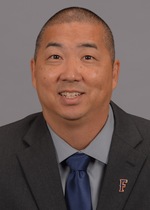 Cal State Fullerton named Jeff Harada its head women's basketball coach, Athletics Director Jim Donovan announced on April 17, 2017.
Harada is the Titans' 11th head coach in the program's 48-year history, after spending the last three seasons (2015-17) as head coach at Division II Central Washington University in Ellensburg.
His accomplishments include a total of seven postseason appearances in 17 years of coaching including three trips to the NCAA Division I and II Women's Basketball Tournaments (2013, 2012, 2010) one trip to the Women's National Invitation Tournament (2014), two appearances in the Men's National Invitation Tournament (1999, 2000) and one trip to the NCAA Division I Men's Basketball Tournament (1997).
In addition, Harada won five regular season or conference tournament championships and was named the 2010 Women's Pacific West Conference Coach of the Year.
In three seasons (2015-17) at Central Washington, Harada compiled a 44-42 record, making three consecutive trips to the Great Northwest Athletic Conference Postseason Tournament.
In his first year at Central, Harada nearly doubled the Wildcats' overall win total and nearly tripled their conference win total from the previous season. In his second year, the Wildcats saw the highest overall win total since 2006 (17) and highest conference win total since 2004 (10). Harada coached two GNAC Freshmen of the Year (2015, 2016) and seven all-GNAC selections in his three years at CWU.
Prior to making the move to Central Washington, Harada served as an assistant coach at Navy for three seasons (2012-14). Navy went to the postseason during each of Harada's seasons serving on the bench. The team went 24-8 in 2014, and earned a bid into the Women's National Invitational Tournament. That followed back-to-back appearances in the NCAA Women's Division I Basketball Tournament. Navy won back-to-back regular season Patriot League championships in 2013 and 2014, and won back-to-back Patriot League Tournament titles in 2012 and 2013.
Previously, Harada was the head women's coach at Hawai'i Pacific University, where he took over a team that had won only two games during the season before his arrival. During his tenure at HPU (2008-11), Harada coached one all-region and eight all-conference (Pacific West) players in four years, including two freshman of the year and one newcomer of the year.
Under Harada's leadership, the Sea Warriors won 58 games, including taking 36 of the 50 games played over his final two seasons there. In 2010, Harada's team won its first Pacific West Conference title, advancing to its first NCAA Division II Tournament. Harada was tabbed as the conference coach of the year that season.
Harada began his coaching career at his alma mater, the University of Colorado (1997-01), as a volunteer assistant. He later became the team's director of operations. In addition, he was an assistant coach for the HPU men's program (2004-06) before taking over the women's team for the 2007-08 season.