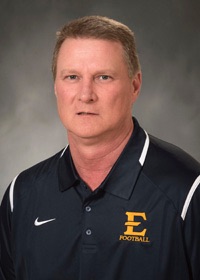 Randy Sanders was named ETSU football head coach on Dec. 17, 2017, becoming the 18th head coach in program history.
Sanders, a Morristown, Tenn. native, has spent the last 29 years coaching on the Football Bowl Subdivision level, which includes stints as offensive coordinator at Tennessee, Kentucky and most recently Florida State. Sanders was the offensive coordinator when Tennessee won the 1998 BCS National Title and the quarterbacks coach at Florida State when the Seminoles claimed the 2013 National Championship. Sanders played a part in either coaching or recruiting a pair of No. 1 overall picks in the NFL Draft – Peyton Manning (1998) and Jameis Winston (2015). In his 29 years of coaching, Sanders has coached in 26 bowl games and his teams hold a combined record of 258-105-2.
He will replace ETSU's head coach Carl Torbush, who announced his retirement on Dec. 8 after a five-year tenure that guided the return of the Buccaneers' football program in 2015.
"I am very excited to welcome Coach Sanders, his wife Cathy and family home to Tennessee," said ETSU President Dr. Brian Noland. "Coach Sanders has impeccable credentials and a career marked by excellence. He embodies the values of our university and embraces our mission. I am looking forward to his leadership and working with him."
Sanders, who played his collegiately at Tennessee from 1984-88, began his coaching career at Tennessee in 1989, and during the 17 years at his alma mater, the Vols compiled a record of 162-46-2 (.776). Over his run in Knoxville, Tennessee won four SEC championships and six Eastern Division crowns in addition to its national title. The Vols played in bowl games his first 16 seasons, including four Citrus Bowls, three Fiesta Bowls, three Cotton Bowls, two Peach Bowls, and one each in the Sugar, Orange, Hall of Fame and Gator bowls.
Following his time at Tennessee, Sanders remained in the SEC as he went to Kentucky to spend the first three years as the Wildcats' quarterbacks coach, before taking over as offensive coordinator from 2009-12. In Lexington, Sanders developed Andre' Woodson into one of the top quarterbacks in the nation. Woodson led the SEC in passing yards, total offense and touchdown passes, including a SEC record 40 in 2007. Woodson went on to be drafted by the New York Giants. During Sanders' tenure, Kentucky won three straight bowl games for the first time in school history.
Sanders enjoyed one of the most successful five-year stretches in Florida State history. Since his arrival in 2013, Florida State totaled 53 wins, two ACC titles, won the 2013 National Championship and he coached a Heisman Trophy-winning quarterback. In his first year at Florida State, Sanders led Jameis Winston to become the youngest players to win a Heisman Trophy in 2013, the same season he also led the Seminoles to a 14-0 record and a national championship. In 2013, Florida State set the national record for points in a season with 723, led the nation with a passing efficiency mark of 174.69, and set school and ACC marks with 7,267 yards of total offense, 51.6 points per game, 94 touchdowns, and 7.67 yards per play. Winston set the national record for touchdown passes by a freshman with 40, had seven 300-yard games and 11 consecutive games scoring 40-plus points.
After the 2014 season, where Florida State started the year 13-0 and earned a spot in the inaugural College Football Playoff, Winston became the first Seminole player to be taken No. 1 overall in the NFL Draft. Despite losing nearly all of their offensive production to the NFL draft in 2015, Sanders' offense remained atop the ACC in offense the next year as Dalvin Cook set school records in rushing (1,691) and all-purpose yards (1,935) on his way to earning All-American honors. In 2017, Cook was drafted by the Minnesota Vikings.
Sanders earned four varsity letters and was a four-year member of the SEC Academic Honor Roll at Tennessee. He stayed at Tennessee after graduating and started his coaching career as the Vols' quarterbacks coach in 1989 and 1990 under head coach Johnny Majors. The Morristown, Tenn. native became a full-time assistant coach in 1991, where he worked with the wide receivers, while Phillip Fulmer named Sanders the recruiting coordinator and running backs coach in 1993. Sanders remained in that role until 1998 when he took over as Tennessee's offensive coordinator and quarterbacks coach.
Sanders and his wife, Cathy, have two daughters, Kelly and Kari.