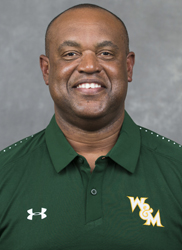 Tremendously successful and widely respected, Mike London enters his first season as head coach of the William & Mary football program.
London, a former assistant under longtime Tribe head coach Jimmye Laycock, returns to Williamsburg with an impressive list of accomplishments as a head coach that includes winning a national title at the University of Richmond (2008) and earning Atlantic Coast Conference Coach of the Year distinction at the University of Virginia (2011).
"This is an exciting day for William & Mary, and we are thrilled to welcome Mike and his family back to Williamsburg," W&M Director of Athletics Samantha K. Huge said at the time of London hiring in November. "Mike embodies the values and character that we need to lead our football program forward and he has demonstrated an ability to develop players and win championships over his nearly 30 years in coaching. His unique journey and commitment to the development of young men make him the perfect successor to carry on Coach Jimmye Laycock's 39-year legacy while forging a new path for Tribe Football."
Howard University's head coach the last two seasons, London's tenure leading the Bison was highlighted with his selection as a finalist for the 2017 STATS Football Championship Subdivision (FCS) Eddie Robinson Award, which is bestowed upon the nation's top head coach. Additionally, he earned the 2017 American Football Coaches Association (AFCA) Regional Coach of the Year award after guiding Howard to a 6-2 conference record – the program's first winning season since 2012. His inaugural campaign at HU featured a season-opening win at UNLV, which ESPN lauded as one of college football's greatest upsets.
Prior to his two-year stint at HU, London served as an associate head coach/defensive line coach at the University of Maryland in 2016 where he helped lead the Terps to an appearance in the Quick Lane Bowl.
In addition to garnering ACC Coach of the Year honors at UVA in 2011, London led the Cavaliers to the Chick-Fil-A Bowl. En route to earning the postseason bowl bid, he guided UVA to road wins at Miami and Florida State – becoming the first program in the nation to accomplish the feat in the same season.
London gained his first head coaching experience at Richmond, his alma mater, where he amassed a 24-5 record and guided the Spiders to the 2008 FCS national title during his initial campaign. His efforts were recognized by the AFCA, which selected him as the FCS National Coach of the Year. After leading the Spiders to an 8-0 start the following season, UR became just the third FCS school to receive a vote in the Associated Press (AP) Poll.
London landed the head coaching job at UR after an exceptional two-year stint as UVA's defensive coordinator (2006-07). During his first season, the Cavaliers allowed just 289.5 yards per game – the program's best figure in 27 years. The following season, London's defense ranked sixth nationally in sacks and among the nation's top 20 in scoring defense and rushing defense. London oversaw the development of an outstanding group of All-ACC honorees, highlighted by 2007 unanimous All-America standout Chris Long, who was the second overall pick in the 2008 NFL Draft.
Before returning to UVA, where he was an assistant from 2001-04, London spent the 2005 season in the NFL as the Houston Texans' defensive line coach. London's first stint with the Cavaliers also included serving as the program's recruiting coordinator from 2002-04.
London, a native of Hampton, Va., began his coaching career as the outside linebackers coach at Richmond in 1988 before coaching the defensive line at William & Mary under Jimmye Laycock (1991-94). He then returned to UR for two more years (1995-96) as the outside linebackers coach and recruiting coordinator before taking on the defensive line coaching duties at Boston College from 1997-00.
A standout defensive back at Richmond (1979-82), London served as a team captain his senior season and was signed by the Dallas Cowboys as a free agent in 1983.
London graduated from UR in 1983 with a bachelor's degree in sociology and a year later earned a degree in law enforcement from the Richmond Police Academy. He served as a detective from 1985-87.
London and his wife, Regina, have four children: daughters Ticynn, Jaicyn and Madicyn and son Korben. He has three children from a previous marriage: sons Michael Jr. and Brandon, and daughter Kristen.