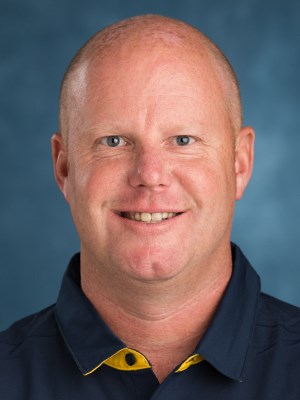 Sean Byron is heading into his first season as Marist's head volleyball coach in the 2019 season. His hiring was announced on April 26, 2019.
Byron has over two decades of coaching experience, including time as a head coach, assistant coach, and with the United States National Pipeline. Byron has won national championships as an assistant coach for the Ohio State men's team, and as head men's coach at Springfield College. He most recently served as an assistant coach at the University of Michigan for the past three seasons.
At Michigan, Byron's primary responsibilities included serving as recruiting coordinator and scouting. In 2016, he helped MacKenzi Welsh earn an AVCA All-America Honorable Mention selection, four Big Ten Freshman of the Week awards, and a Big Ten All-Freshman Team selection. That season, he also served as offensive coordinator and helped the Wolverines earn their highest attack efficiency in 10 years. He extensively recruited and helped secure four Prep Volleyball All-Americans in 2018.
Byron helped coach Michigan to NCAA Tournament appearances in each of the last three years, and helped guide the Wolverines to the Sweet Sixteen in 2016 and 2018. Michigan posted a record of 69-33 In Byron's tenure in Ann Arbor.
Prior to this time at Michigan, Byron spent one season as an assistant coach at West Virginia, where he worked primarily with the offense. At West Virginia, Byron recruited a strong class that included future Big XII Freshman of the Year Payton Caffrey.
Before his stint at West Virginia, Byron was assistant coach for the Ohio State's men's team from 2007-15. His primary responsibilities included serving as offensive and recruiting coordinator. The Buckeyes won the national championship in 2011, which capped a stretch of a four straight Final Four appearances in the NCAA Tournament. In 2014, Byron recruited Driss Guessous, who was named National Freshman and Player of the Year.
Byron was the head men's and women's volleyball coach at Rutgers University-Newark from 2000-07. While at the school, Byron's men's squad qualified for the EIVA tournament and consistently ranked in the top 15 of the nation, while the women's squad advanced to both the ECAC and NCAA Tournaments.
Prior to his appointment at Rutgers University-Newark, Byron was the head men's and women's coach at East Stroudsburg from 1998-99. Previously, he spent two years as the head men's coach at Springfield College, where he guided the team to the Division III national championship in his first season as head coach in 1997.
Byron has worked extensively with USA Volleyball. He started as a coaching intern in 1994, and has been an assistant or head coach on nine summer developmental programs and the National B Team. These teams have combined for a record of 46-19.
A standout volleyball player at Springfield College, Byron earned a Bachelor of Science in Physical Education in 1993. He then earned a Master of Education in Physical Education from Springfield in 1998. He is also an instructor for the Coaching Accreditation Program (C.A.P.) National Certification courses for aspiring club, high school and college coaches in the United States and has had several published works on volleyball skills.
Byron and his wife, Julie, have two daughters: Grace (15) and Calleigh (12).