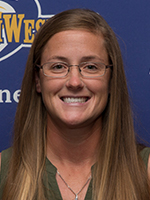 Head Coach
Nicki Levering
Nicki Levering enters her third season as the head softball coach at Georgia Southwestern in 2019-20. Levering comes to GSW from South Georgia State College where she served as head coach for four seasons.
This past spring, under Levering's leadership, the Lady Canes were able to go 29-26/10-10 in the PBC, making their second appearance in the Peach Belt tournament. The program broke NCAA history this past season attending their first Peach Belt Conference Tournament Championship game. Unfortunately, the Lady Canes finished 2nd place at the PBC tournament but they are looking forward to making an NCAA Regional Tournament appearance in the 2020 season.
During her time at South Georgia State, her team posted 30-plus wins for the second consecutive season, finishing 31-20. In 2015, the Hawks captured the Georgia Collegiate Athletic Association (GCAA) regular season championship with a record of 12-2 in league play and 32-9 overall, earning Levering GCAA Coach of the Year honors.
All told, Levering produced 14 GCAA All-Region players and two All-American nominees during her time at South Georgia State.
Prior to South Georgia State, Levering was the assistant coach at Galveston College in Galveston, Texas, where the team was 2013 NJCAA Region 14 regular season champions and finished the season ranked No. 7 in the country.
Levering, a native of Nashville, Tenn., had a successful career as a collegiate athlete as well. She played catcher and third base at both Seminole Community College (Sanford, Fla.) and Trevecca Nazarene University (Nashville, Tenn.). She was a National Fastpitch Coaches Association Academic All-American in 2005 at SCC and a 2008 team captain at Trevecca Nazarene, where she earned a bachelor's degree in exercise science. Levering was on a Trevecca Nazarene squad that won NAIA Regional IX and Tran South Conference championships in 2007 and 2008.
After her playing career ended, she served as a graduate assistant for two years at the University of North Alabama earning a master's degree in health and human performance. Currently, Levering is in pursuit of her doctorate in adult and career education at Valdosta State University.