TITAN GYM
Cal State Fullerton's Titan Gym has served as the home court advantage for the Titans' men's and women's basketball programs since the 1964-65 season. Historically one of the most difficult places to play because of the proximity of the bleachers to the playing floor, Titan Gym has been upgraded over the past few years to make it more fan friendly while still intimate.
Chairback seats have replaced most of the bleachers, portable basket supports have replaced fold-down backboards, new paint and championship banners now adorn the walls, and the floor was redesigned and resurfaced during the summer of 2013.
The 2012-13 seasons introduced a video board at the east end and scoreboards at each end that feature in-game individual player statistical updates.
Completed for the 2005-06 season was an elaborate addition to the building which provided balcony seating on the south side. Capacity was increased back to around 4,000 and a much needed practice floor was created behind the upstairs bleachers. A similar practice area for basketball or volleyball was created from the previous wrestling workout room behind the northern upstairs bleachers.
The gymnasium is part of an expanded physical education/kinesiology complex, featuring numerous classrooms and physical testing laboratories.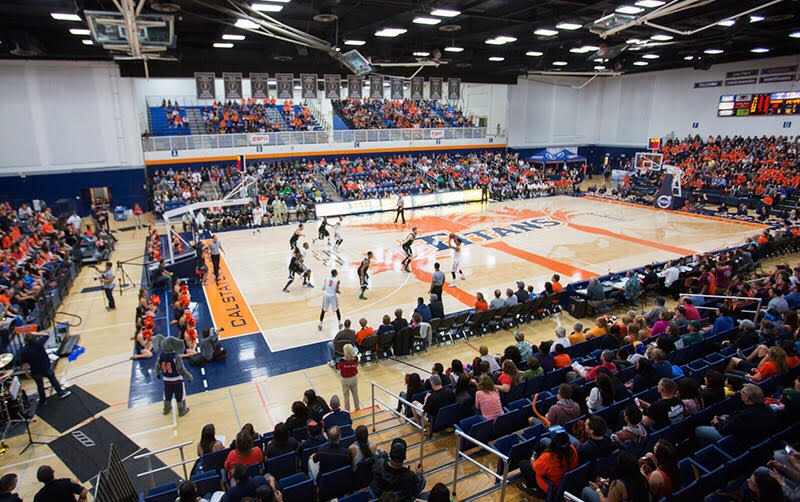 TITAN RECREATION CENTER
Titan Recreation promotes the belief that fitness should be for all - no matter your size, shape, fitness level or physical ability. The SRC Cardio/Weight rooms are designed to inspire by creating the most engaging, user-friendly environment possible through equipment selection, mix and layout. The cardio/weight rooms welcome the beginner through avid exercisers and will quickly become a trusted part of their daily routine by offering unique workouts that continually challenge and reward each participant.  22,000 square feet of gymnasium space offers three full indoor courts exclusively for recreational and student use. The SRC includes space for either 3 basketball, 3 volleyball or 9 badminton courts with drop curtain dividers and 3 scoreboards.