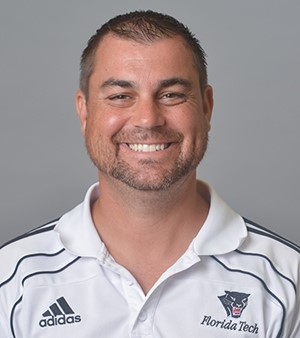 Leading the Panthers in his second season at FIT, Smith registered an overall record of 11-6, with a home winning record of 6-1. In the 2016 outing, Smith's team ended the season ranking 2nd in SSC for shots, logging an outstanding total of 314 in 17 games played. Moreover, the Panthers defense took the 3rd place in SSC for goals-allowed average (0.82). Under Smith guidance, the Crimson and Gray landed to the SSC Tournament Quarterfinals, before falling to the Barry Buccaneers 1-0. Three players were named to All-SSC teams, while one player was named to D2CCA All-South Region Second Team.
In his first year at the helm, Smith guided the Panthers to a strong 10-5-2 campaign, which included a remarkable 8-3-0 mark on the road. Led by a stiff defense that topped the league in goals-against average (0.76), Florida Tech reached the Sunshine State Conference Tournament Semifinals before falling 2-1 to then-No. 8 Barry. Five players were named to all-region teams along the way, four of whom received second team recognition.
Prior to being named head coach, Smith served as an assistant for five seasons under the late Fidgi Haig. Within that span, Florida Tech accumulated a combined record of 47-32-13, including three NCAA Tournament appearances, one Final Four appearance, an NCAA Division II South Region Championship and one Sunshine State Conference Regular Season Co-Championship.
Born in Chicago, Ill., Smith moved to Florida and grew up playing club soccer for the Challengers 76 (Space Coast) and FC America (Orlando) teams, respectively.
He graduated in 1994 from Melbourne High School where he captained the 1994 state champion Bulldogs to a 21-1-2 record his senior year. Smith then continued his playing career in Charleston, S.C. from 1994-98 as a four-year starter at Charleston Southern University where he also earned a Bachelor of Arts degree in business administration. While playing for the Buccaneers, he captained the 1997 squad to a 16-5-1 record and earned the program's first-ever NCAA Tournament berth against the No. 2 nationally ranked South Carolina Gamecocks. Smith was voted to the Big South All-Conference Team in 1996 and 1997.
Following his collegiate career, Smith played two seasons with the USL's Myrtle Beach Sea Dawgs from 1998-99. He also served as an assistant coach at Coastal Carolina University from 1998–2000 under the tutelage of his former coach Shaun Docking, who is currently still there.
Smith has been the driving force behind Orlando City ECNL and Space Coast Soccer Club's U17 girls clubs, with a combined nine seasons under his belt between the two organizations.