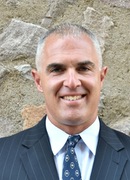 Anthony (Tony) Reno became the Joel E. Smilow '54 Head Coach of Yale Football on Jan. 12, 2012. The 34th head coach of the Bulldogs came back to the program after serving as an assistant at Yale and Harvard. His return to New Haven transformed the Elis into a program that got better - and closer to the top of the league - each season.
Yale's 2014 campaign brought much national attention back to New Haven's gridiron. Not only was it the Yale Bowl's 100th anniversary, it was a remarkable season for the Bulldogs, who went 8-2 and had a shot at the Ivy title while ESPN's GameDay broadcast live from the season finale.
The 2014 Elis led the FCS in total offense while TB Tyler Varga '15 led the nation in scoring and WR Grant Wallace was tops in yards per game receiving. The season included an OT win over Army and an award for the nation's team of the week by the College Football Writer's Assocation of America. Reno was also honored as a finalist for the 2014 Eddie Robinson Award.
His 2013 Yale team made national news by beating a ranked Cal Poly team on the road in October. His Bulldogs also produced numerous league and national honors.
Reno, the Harvard special teams coordinator and defensive secondary coach from 2009 to 2011, helped engineer an undefeated 2011 Ivy League Championship team, which earned a No. 14 Football Championship Subdivision National Ranking. Three of his Crimson special teams units were ranked statistically among the nation's top 20 in 2011.
The 41-year-old Oxford, Mass., native and a 1997 Worcester State College graduate, helped develop 10 All-Ivy players and an All-American over his last two seasons in Boston. His defensive backs enabled the Crimson to lead the league in scoring defense while earning impressive national rankings in numerous categories.
Reno, who spent six years in New Haven and rose to assistant head coach under Jack Siedlecki, helped the Bulldogs win a 2006 Ivy title. He was Yale's wide receivers coach in 2003 and the defensive secondary leader from 2004 to 2008. His 2003 receivers played an integral role in the Blue's No. 2 national ranking in total offense. When he took over the Eli defensive backs, they helped the defense rise to new heights. The 2007 and 2008 Bulldogs were No. 1 in FCS scoring defense, while 14 of his players earned all-league honors during his Yale tenure.
A 2002 AFLAC/Coach Magazine National Assistant of the Year Award winner, Reno served as Worcester State's defensive coordinator from 1998 to 2002. The Lancers, who made two post-season appearances and went 27-5 with Reno as defensive coordinator, were 2001 ECAC Northeast Champions and made it to the title game the following year.
Reno, whose first job was defensive assistant coach at King's (Pa.) College for the 1997 season, earned a degree in history before completing a master's of science in health education from WSC in 2000. As a player at WSC, Reno was a three-year starter at free safety, and his team was league champion his last two seasons. His 1996 team led the nation in scoring, rushing and pass efficiency defense.
Reno is the first Yale football head coach from Massachusetts since Ted Coy '10 in 1910. He and his wife, Toni, have three children: Dante, Angelina and Vince.