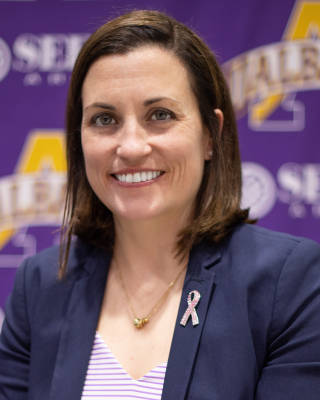 Head Coach
Colleen Mullen
University at Albany Director of Athletics Mark Benson announced Monday, May 14, 2018, the hiring of Colleen Mullen as the 12th head women's basketball coach in program history, and the fifth head coach in the Great Danes' Division I era.
Mullen arrived at UAlbany after spending the previous seven seasons at Army West Point. Mullen joined Army's staff as an assistant coach in July 2011 and was promoted to associate head coach a year later. Mullen made her way to West Point after two years at Long Island University, where she was the top assistant and recruiting coordinator. She also spent a season as an assistant coach at Lehigh.
A proven point guard as a collegiate player for both Rhode Island and New Hampshire, Mullen has continued to cultivate her expertise at the guard position since entering the coaching ranks.
At Army, Mullen worked primarily with Army's guards. She worked closely with the Patriot League career scoring leader Kelsey Minato from 2012 to 2016 and helped lead the Black Knights to four straight 20-win seasons and four consecutive appearances in national postseason tournaments. The Black Knights reached the NCAA Tournament and earned Patriot League championships in 2016 and 2014, and played in the WNIT in 2015 and 2013.
The Black Knights finished 17-1 in Patriot League play in 2015-16 and entered the conference tournament as the No. 1 seed. Army set a number of Patriot League records that season, including widest margin of victory (+19.5), lowest opponent scoring average (50.8), and highest three-point percentage (.410). The Black Knights also rattled of 19 wins in a row during the year to establish new Patriot League and Academy records.
Minato garnered a number of accolades during her outstanding senior season in 2015-16, including espnW Mid-Major Player of the Year, All-Met Division I Player of the Year, and being selected All-America honorable mention by the Associated Press and the Women's Basketball Coaches Association. Minato earned her third Patriot League Player of the Year nod to join 2003 Bucknell graduate Molly Creamer as the only player in league history to do so, and become the conference's only player to be a first-team selection all four years.
During the 2014-15 season, Mullen worked primarily with Army's guards in helping lead the team to its program-record third straight appearance in a national postseason tournament, as the Black Knights reached the WNIT following berths in the NCAA Tournament and the WNIT in 2014 and 2013, respectively. Army finished the season 23-8 to mark its third straight 20-win season, also a program first.
During her seven-year coaching tenure prior to Army, Mullen churned out a plethora of decorated guards and secured top-rated recruiting classes. In her two seasons at Long Island, she helped lead the Blackbirds to an appearance in the Northeast Conference finals and helped record the second-highest win total in program history with a 22-10 mark in 2009-10. She mentored two-time first team All-NEC player Ashley Palmer, while point guard Kiara Evans ranked eighth nationally in assists per game (6.4) under Mullen's watch.
Her duties at Long Island also included managing the program's budget, overseeing the assistant coaching staff, coordinating all on and off campus recruitment and serving as the academic coordinator. The Blackbirds successfully improved their overall team grade-point average from a 2.84 in 2010 to a 3.19 in 2011. A proven recruiter, her first recruiting class was ranked 88th nationally by All-Star Girls Basketball Report.
Prior to her tenure at Long Island, Mullen spent 2007-08 at Lehigh, where she oversaw player development with an emphasis on the backcourt. During her short stint at Lehigh, she guided three of the program's top guards - Erica Prosser, Tricia Smith and Alex Ross - to All-Patriot League selections. All three players went on to garner major Patriot League honors and help Lehigh to back-to-back conference titles.
Mullen spent 2005-07 as the top assistant at Southern New Hampshire after serving as the director of basketball operations at Northern Illinois in 2004-05.
As a player, Mullen spent two seasons at Rhode Island, leading her team in assists each year before transferring to New Hampshire. A two-year captain, she was one of the top feeders in Wildcat history and finished her two-year career with 218 assists, the 14th-highest mark in school history. Mullen was named to the America East Academic Honor Roll in each of her two seasons.
Mullen received a Bachelor of Science degree in Business Administration from New Hampshire in 2003. She earned her a Master of Business Administration degree from Southern New Hampshire in 2006.
Mullen and her wife, Lauren, reside in Bethlehem, N.Y., and have three children: Maggie (3) and twin sons, Brennan & Callan (1).