2019 November Fall Exposure Baseball Camp (Grades 8 - 12)

November 02, 2019 - November 03, 2019
Open to 8th-12th-graders in high school, our Fall Exposure Camps
will offer great in-game instruction and exposure to the UVA coaching
staff and other college coaches in attendance.
Due to the new NCAA rule, UVA will be the only D-I program in attendance. All other programs will be either D-II, D-III or NAIA schools.
The camp will include in-game instruction and a 2 game minimum for each player. All camp activities will take place at the newly renovated Davenport Field at Disharoon Park - one of the finest baseball facilities in the country.
Interested in attending as a Position Player and a Pitcher? Just check the box on the registration page. The cost is an additional $180. or................ Interested in playing for two different teams (4 total games)? Just check the box on the registration page. The cost is also an additional $180 and please indicate second position in the secondary position field of the registration page
Players Receive
2 days of elite professional in game and out of game instruction and a 2 game minimum.
Opportunity to learn from and be evaluated by the University of Virginia Coaching staff
Virginia Baseball dri-fit shirt
Equipment
Each camper must bring his own baseball equipment. Players should bring a glove, bat, cleats/spikes, running shoes or turf shoes, hat, and any other equipment they feel necessary to compete. Catchers must bring their own gear. Helmets will be provided if you do not have your own. Every camper in attendance will be given a numbered UVa Baseball T-Shirt to be worn during camp. However, all campers must bring their own baseball pants.
Team assignments can be made to accommodate travel plans upon request
Saturday Schedule
09:30am - Registration @ Davenport Field
11:00am - Introduction from Coach O'Connor
11:30am - Pitching instruction - College skills workout
02:30pm - Game #1 - Team 1 vs. Team 2
04:00pm - Game #2 - Team 3 vs. Team 4
Dinner served
05:30pm - Game #3 - Team 5 vs. Team 6
07:00pm - Game #4 - Team 7 vs. Team 8
Sunday Schedule
09:00am- Game #5 - Team 1 vs. Team 2
10:30am - Game #6 - Team 3 vs. Team 4
12:00pm - Game #7 - Team 5 vs. Team 6
01:30pm - Game #8 - Team 7 vs. Team 8
IMPORTANT
The camp is open to those individuals who will be a high school freshman, sophomore, junior or senior baseball players in the fall of 2019 (2020, 2021, 2022, 2023 and 2024 graduates). Exact numbers will be permitted for each playing position so that campers will have maximum playing time during the games. Campers will be accepted based on position availability at the time we receive your application. You will be contacted via email when your application is received. Please note that pitcher only's do not hit during games to maximize at bats for position players .
Positions are as follows: Pitcher, Catcher, First Base, Infield, & Outfield.
Note: INF will play all three positions in the games - 2B, SS, and 3B. OF will play all three positions in the games - LF, CF, and RF.
Camp Check-in
Check in will run from 9:30-11:00am @ Davenport Field
Meals
Dinner will be provided Saturday evening only!
Accommodations
This is a commuter camp only. There is no overnight option provided through Atlantic Coast Baseball Camps. The Hampton Inn is the official sponsor of Atlantic Coast Camps. Located less than 2 miles from Davenport Field, the Hampton Inn offers competitive rates and beautiful accommodations. Make your reservation today by calling 434.978.7888. Each camper is responsible for his own accommodations while attending camp.
Merchandise
UVA merchandise will be available for purchase at each session.
Refunds
Due to the high demand for this camp, refunds will be given in credit toward a future camp, if a refund is requested due to circumstances beyond your control, Atlantic Coast Camps reserves the right to grant it. Players that cannot attend due to injury or accident will be given a credit toward a future camp. SCHEDULING CONFLICTS ARE NOT CAUSE FOR REFUND OR CREDIT. CANCELLATIONS WITHIN 24 HOURS OF THE CAMP WILL FORFEIT THE REGISTRATION FEE.
*In accordance with the rules of the NCAA the camps are open to all players.
*In accordance with the rules of the NCAA we are prohibited to give free/reduced camps to prospects.
*Pro-rated fee's are an option in limited situations. Please contact Coach Kirby for any questions.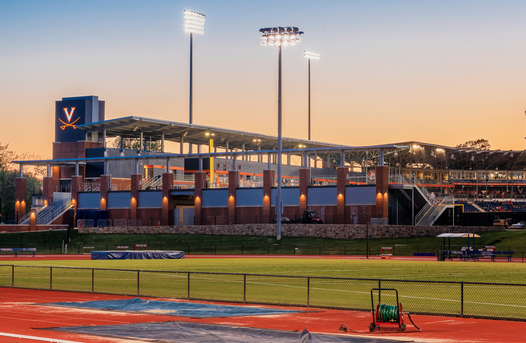 The setting for the High School Prospect Camp is on the nationally renowned Grounds of the University of Virginia, located in beautiful Charlottesville, Virginia. The on-field camps will take place at Davenport Field. This $28 million dollar facility has been rated in the top 15 nationally for best college baseball venues and seats over 6,000 Cavalier fans. The indoor hitting facility is equipped with four full batting cages, soft toss and tee areas, five pitching machines. The New Virginia Baseball Pitching Lab is equipped with a mound, an open pitching mechanic area, state of the art camera's and tv's along with aerobic and exercise equipment that are complete for the highly competitive pitcher.
2019 November Fall Exposure Baseball Camp (Grades 8 - 12)
Ages: 2024 - 2020
November 02, 2019 - November 03, 2019 | Charlottesville, Virginia
Sat, November 02, 2019 - Sun, November 03, 2019
434 Lannigan Ln
Charlottesville
,
Virginia
22904