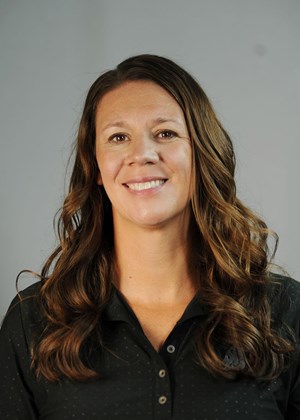 Jen Greeny completed her seventh season as the head coach at WSU, highlighted by leading the Cougars back to the NCAA Championship tournament and guiding the Cougars to the second round of that tournament for the second consecutive year.
This year was one of success. During the summer of 2017, four Cougars added national and international playing experience as members of National Teams: McKenna Woodford played on the U.S. Collegiate National Team (CNT)-Thailand, Taylor Mims played on CNT-Europe team that won Gold at the Global Challenge, Casey Schoenlein played on the CNT-Minneapolis squad, and Jocelyn Urias played on Mexican National Team at the FIVB Grand Prix.
The 2017 season was one of challenges with a nonconference schedule that featured six matches against 2016 NCAA tournament teams as well as the usual tough meetings against nationally-ranked Pac-12 opponents. WSU finished with a nonconference record of 11-1, an overall record of 18-16, and was 6-14 in Pac-12 for ninth with a RPI of 38 (out of 334 teams) and a strength of schedule ranked 10th-hardest nationally.
Returning to the NCAA Championship tournament was more impressive when taking into account junior outside hitter starter McKenna Woodford was lost to injury for the final 18 matches of the season, starter senior opposite starter Casey Schoenlein was lost to injury for the final seven matches and freshman S/OH starter Penny Tusa was lost to injury for the final seven matches. WSU had wins over No. 13 UCLA, No. 25 Colorado and an NCAA First Round win over Florida State before dropping a match to national champion Nebraska on its home court in Lincoln.
Greeny has coached or played in eight of WSU's 12 NCAA Championship tournament appearances.
Junior Taylor Mims embraced the position move from middle blocker to outside hitter and had the sixth-best offensive output (4.17 kills per set and 4.75 points per set) in the Pac-12, and her 599 points was 12th-best in the NCAA. Mims was accorded All-Pac-12 First Team honors as well as named to the All-America honorable mention teams for PrepVolleyball.com and VolleyballMag.com.
Great blocking was another key to the Cougars' success in 2017 as WSU was sixth-best nationally with 364.5 total blocks and 11th in team blocks per set at 2.89. Redshirt sophomore Jocelyn Urias and juniors Ella Lajos and Claire Martin provided the most stops at the net while sophomore libero Alexis Dirige became the 11th player in school history to reach 1,000 digs and did it in the fewest number of sets.
The Fall of 2016 was the most successful season for the WSU volleyball program since 2002. The Cougars tallied a 22-12 overall record and an 11-9 record for fifth place in the highly-competitive Pac-12 Conference after a preseason coaches' poll predicted a ninth-place finish. Seeing her success throughout the season, Greeny's fellow conference coaches voted her the 2016 Pac-12 Coach of the Year. WSU made history in 2016 with a trio of consecutive wins over AVCA Top 10 nationally-ranked teams in 10 days: at No. 4 Washington Sept. 21, at No. 9 UCLA Sept. 23 and versus No. 9 Stanford Sept. 30.
The Cougars earned an at-large bid to the NCAA Championship tournament for the first time in seven years and won a First Round match for the first time in 14 seasons. This season's 22 wins is tied for fifth-most in WSU volleyball program history and under Greeny's leadership, WSU has produced the best three season win-totals in the last 14 years with 18 wins in 2013, 16 wins in 2015 and 22 wins in 2016. Greeny's WSU teams have posted a 62-11 non-conference record during her six years as head coach. The Cougars compete in the country's strongest volleyball conference, the Pac-12, where for the last 17 consecutive seasons the conference has had six or more teams advance to the NCAA Championship tournament including the record of 10 teams in 2014.
Senior outside hitter Kyra Holt, an All-Pacific North Region and two-time All-Pac-12 selection, was a versatile all-round player leading the team on and off the court. Holt, the fifth player in WSU history to reach 1,000 kills and 1,000 digs in a career, claimed school records in points (2,051) and attack attempts (5,074), and is in WSU's career top 10 lists in kills (1,777 - 2nd), kills per set (3.74 - 5th), aces (123 - 5th), and digs (1,172 - 7th). During the 2016 season Holt was the espnW National Player of the Week for Sept. 19-25, 2016 as well as Pac-12 Offensive Player of the Week and earned a trio of nonconference all-tournament honors.