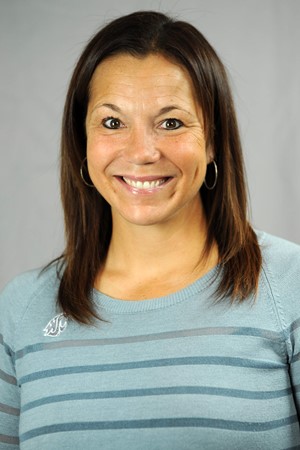 Lisa Hart is in her 15th season as the Washington State head women's tennis coach, having accumulated 181 victories and trips to the NCAA Championships in 2008 and 2012. Additionally, she has coached three players, Eka Burduli (2006, 2008), Elisabeth Fournier (2010) and Liudmila Vasilieva (2010, 2012), who have reached the NCAA Singles Championships.
Throughout her tenure, Hart's teams have achieved success on the court and in the classroom, posting 10 seasons with 12 or more victories. Additionally, Hart-coached teams have been ranked nationally at some point during 13 of her 14 seasons, and each of the last 11 seasons, WSU has garnered the Intercollegiate Tennis Association (ITA) All-Academic team award.
Last season the Cougars posted a 10-16 record, dropping four matches by 4-3 scores. Eleven times in her WSU career she had accumulated double-digit victories, including each of the last eight seasons. Hart's best season came in 2012, when she led the Cougars to a 19-7 record, tied for the most wins in school history, and a second-round showing at the NCAA Women's Tennis Championship. That season included wins over six nationally ranked teams, a first-round victory over No. 36 Florida State at the NCAA Championship, a weekend sweep over No. 26 Arizona and No. 27 Arizona State, the first time that occurred in school history, and the first win over Arizona State in 19 matches. The Cougars also posted six conference victories, more than any previous WSU team, and finished fifth in the Pac-12 Conference.
Hart capped the 2012 season by being named the Pac-12 Conference Coach of the Year, the 2012 Intercollegiate Tennis Association Northwest Region Coach of the Year and the 2012 United State Professional Tennis Association/Pacific Northwest Division College Coach of the Year.
Hart's first trip to the NCAA Championship as a Cougar came in 2008 when she guided her squad to a 16-10 overall record, and a first round berth against No. 27 LSU. That season ended with the most wins by a Cougar squad in more than a decade.
Since 2004, the Cougars have finished the season in the national rankings eight times, including No. 32 to end the 2012 and No. 43 in 2008. The Cougars have also been ranked in the Northwest Region every year under Hart, including a high of No. 3 in 2012.
During her WSU tenure, Hart has mentored three players to the NCAA Singles Championships, all of whom finished the year nationally ranked and all ended their careers as WSU's Conference Medal recipients, given to the WSU's top senior student-athlete. She has also guided six players to a total of nine all-conference honors. Hart-coached players have accumulated 43 Pac-12 All-Academic honors, 32 ITA All-Academic awards, two ESPN The Magazine/CoSIDA All-District VIII First Team recipients, five Cissie Leary ITA Northwest Region Sportsmanship Award winners and four ITA Northwest Region Arthur Ashe Award recipients.
Community service has been a staple of Cougar tennis under Hart. She was selected as the regional winner of the 2004, 2005, 2007, 2011 and 2013 Community Service Award by the United States Tennis Association and Intercollegiate Tennis Association. The award is to honor ITA coaches for their significant contributions in developing community based tennis programs through community centers, schools, parks, community tennis associations, inner city, suburban or rural programs. In 2008, Hart was named the national winner of the USTA/ITA Community Outreach Award.
Prior to WSU, Hart spent three seasons at Virginia Tech where she guided the Hokies to a 45-36 record. Hart served as the assistant women's tennis coach at the University of Nebraska for two years prior to Virginia Tech.
Hart was a tennis standout at Nebraska, finishing her career as one of the most successful women's tennis players in school history. She was the 1995 Big Eight Freshman of the Year, recorded 74 career singles victories, winning the Big 12 Conference No. 2 singles title as a senior.
Her dedication and excellence on the court was matched in the classroom as Hart was a three-time academic all-conference selection, earning first-team academic All-Big 12 honors as a senior. She was selected by the Intercollegiate Tennis Association as the Central Region's "Cissie Leary Sportsmanship Award" winner. As a senior, Hart also received the Arthur Ashe Sportsmanship and Leadership Award.
A native of Sunnyside, Wash., Hart had an outstanding high school career at Sunnyside High where she was a three-time State champion. She also earned All-America honors as a high school sophomore. Hart earned a bachelor's degree in elementary education from Nebraska and also holds a master's degree in education with an emphasis in physical education and sports studies from Nebraska.
Hart resides in Pullman with her daughter, Mary Beth and son, Paul.