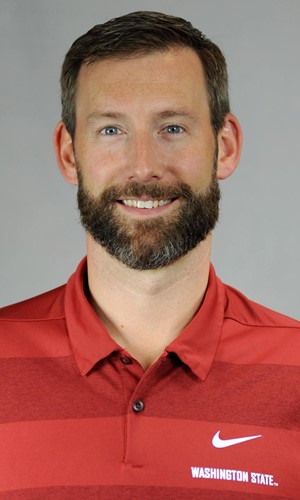 Matt Leach finishes his second season leading the Washington State University Women's Swimming program after being hired July 19, 2018.
Leach guided his young Cougar team to a number of accomplishments in his first season at WSU highlighted by producing the program's first NCAA National Championship participant in sophomore Mackenzie Duarte since 2010. Leach also led the Cougars to the postseason, finishing eighth at the CSCAA National Invitational Championships including an individual title by Linnea Lindberg in the 50 breastroke. The Cougars reached many milestones under Leach in 2018-19, posted ten WSU Top-10 times at the Pac-12 Conference Championships, set two school records in the 100 free and 200 breast through the year, three different swimmers recorded double-digit wins and as a team were ranked second in the Pac-12 based on improvement from the year prior, according SwimSwam.com. Academically, WSU earned CSCAA Scholar All-America Team honors (Team GPA of 3.00+) in the fall and spring, three swimmers earned CSCCA Scholar All-American honorable mention accolades and eight earned Pac-12 All-Academic honors including a pair of first-team selections.
Leach joined WSU after spending the previous three years at Indiana State where he started the swimming and diving programs in 2015 and began competing in the 2016-17 season. In the program's second season, Leach was named the 2017-18 Missouri Valley Coach of the Year after guiding the Sycamores to a 13-win campaign that featured a 10-dual match win streak and a record-setting team performance at the Missouri Valley Conference Championships where ISU set school records in every event, highlighted by the program's first individual conference champion. Nine Sycamores earned All-MVC honors including a trio of first-team selections.
Out of the pool, Leach saw his team earn CSCAA Scholar All-American honors for the third straight semester, including the highest team GPA in the Missouri Valley Conference. Six student-athletes earned MVC All-Academic honors this past season after five earned the same honor in 2016-17.
Prior to Indiana State, Leach spent six seasons at the University of Wyoming (2009-15), including the final four seasons as associate head coach and worked extensively with sprint swimmers. Leach helped rewrite the Cowgirl record books, as every sprint event school record was broke during his time on staff. He has also coached sprint swimmers to NCAA and Olympic trials competitions including two-time All-America selection Kelsey Conci who earned trips to the NCAA Championships in the 100 backstroke and the 50 and 100 freestyle, placing 10th in the 100 backstroke at the 2011 NCAA Championships and ninth at the 2012 championships.
Leach arrived at Wyoming from Louisiana State University where he began as a graduate assistant in 2004, and then as a volunteer assistant coach for two seasons (2007-09). At LSU, Leach helped guide several athletes to the NCAA Championships, and a top-25 ranking for both the men's and women's teams. Leach also served as the head age group coach at Tiger Aquatics from 2006-09 where he was named the 2007 Louisiana State Age Group Coach of the Year for his efforts in his first season.
A native of Portland, Ore., Leach swam collegiately at Indiana University (2000-04), where he was a was a four-time All-American, helped the Hoosiers to a Big Ten Conference Championship in the 200 medley relay as a senior and still holds school records as a member of the 200 freestyle relay and 400 medley relay. Leach also performed on the national stage, as he took part in the 2000 and 2004 U.S. Olympic Trials.
Leach graduated from Indiana in December 2004 with a bachelor's degree in environmental management. He received his master's degree, also in environmental planning and management, from LSU in May 2007. Leach and his wife, Katie welcomed their daughter Eloise this past summer.