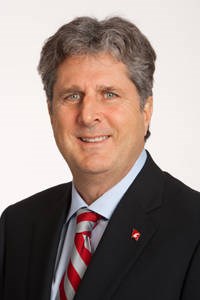 Mike Leach, the 2015 Pac-12 Co-Coach of the Year, begins his sixth season leading the Washington State Cougar football program after being named the Cougars' head football coach, Nov. 30, 2011. Leach has guided the Cougars to three bowl appearances in his first five years, a first for a WSU head coach.
Last season the Cougars posted an 8-5 mark, including a 7-2 record in Pac-12 play, along with an appearance in the Holiday Bowl. Leach guided a WSU offense that led the Pac-12 and finished third nationally in passing (362.5 ypg), and also led the Pac-12 in completion percentage, second nationally, at .703 percent. WSU won eight-straight games midway through the season, the most since the 1930 campaign. WSU had 10 players earn All-Pac-12 honors, five were named to the Pac-12 All-Academic teams, and redshirt junior offensive lineman Cody O'Connell was a unanimous All-American and finalist for the Outland Trophy.
In 2015 the Cougars ended the season with a 9-4 record, 6-3 in the Pac-12 Conference, capped by a 20-14 Sun Bowl victory over Miami. After starting the season 2-2, the Cougars went 7-2 over the final nine games, posting last-minute victories at Oregon and No. 18 UCLA, and rallying from a fourth-quarter deficit in a 38-24 victory against Arizona State. For the second-straight season WSU led the nation in passing at 389.5 ypg, while also finishing second in the nation in red zone offense, converting 94.5 percent of their opportunities. WSU concluded the regular season by having 11 student-athletes named to All-Pac-12 teams and five to Pac-12 All-Academic teams. Senior offensive lineman Joe Dahl earned Second-Team All-America honors while defensive lineman Hercules Mata'afa garnered First-Team Freshman All-American honors by USA Today.
In 2014 Leach's offense led the nation in passing at 477.7 yards per game, the second-highest total in FBS history, trailing only Houston's 511.3 in 1989. WSU set or tied 42 school, conference or NCAA records during the season, including quarterback Connor Halliday who threw for an NCAA single-game record 734 yards against California. WSU also placed five student-athletes on Pac-12 All-Academic teams and five on All-Pac-12 teams during the season.