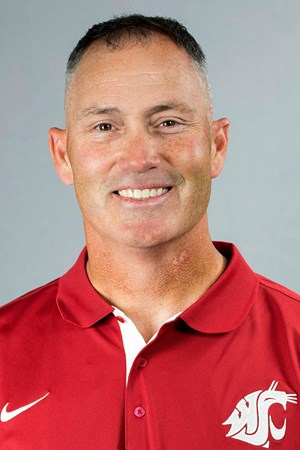 Marty Lees completed his second season at the helm of Washington State Baseball after being named the 15th head coach in program history in 2015. Prior to WSU, Lees spent the previous three seasons as the assistant coach/recruiting coordinator at Oklahoma State and the previous 11 at Oregon State. In those 14 years he coached 10 teams that reached the NCAA Tournament, including two national champions with Oregon State (2006-07).
This past season saw the Cougars up their win total from a season ago highlighted by a stretch that saw Washington State claim four straight Pac-12 Conference series en route to a 24-29 campaign, including a 10-20 mark in league play. In year two under Lees, WSU featured a lineup with six first-year players, recorded its highest batting average, scored the most runs and hit the most home runs since 2013 while posting the fourth-most doubles (105) in the Pac-12, the most by a Cougar team since 2012. Washington State won four straight conference series for the first time since 1995, claiming series against No. 30 Washington, at Utah, Oregon and No. 28 UCLA, WSU's first series win over the Bruins since 2009. The Cougars played well at Bailey-Brayton Field in 2017, posting a 20-10 mark for the best home record since the 2010 team went 20-5. Following the season, three players earn All-Pac-12 accolades led by third baseman Shane Matheny's selection to the All-Pac-12 team while shortstop Andres Alvarez and outfielder Justin Harrer each garnered honorable mention. In the classroom, six Cougars received Pac-12 All-Academic honorable mention, the most since 2012. In June's MLB Draft, three Cougars and a pair of WSU signees were selected in the MLB Draft.
In 2016, his first season at WSU, Lees led the Cougars to series wins over No. 10 Oregon State and No. 14 University of Washington, giving WSU its first series win in Seattle since 2004. Washington State finished the 2016 campaign 19-35 including an 11-19 mark in Pac-12 Conference play while improving in batting average, runs scored and home runs from the season prior with a roster that featured just one senior. The Cougars recorded the second-most stolen bases in the Pac-12, led the league in stolen bases during conference play and tied for the most double plays turned against Pac-12 opponents. Lees saw three players earn All-Pac-12 Conference accolades led by second baseman Trek Stemp's selection to the All-Pac-12 team and four players earned Pac-12 All-Academic honors. In the Major League Baseball Draft, Lees saw three Cougars drafted and four Cougar signees also picked by MLB clubs. Known as one of the best recruiters in college baseball, Lees and his staff put together a 2016 recruiting class that was ranked No. 28 by D1Baseball.com.
In his final season with the Cowboys posted a 38-20 record, falling in the 2015 NCAA Stillwater Regional, the first time in his three seasons Oklahoma State did not advance to the Regional Championship game. Along with helping lead the Cowboys to the NCAA Louisville Regional final in 2013 and a Big 12 Conference championship and NCAA Super Regional appearance in 2014, Lees thrived as Oklahoma State's recruiting coordinator. The Cowboys' first class with Lees on board was ranked No. 4 nationally by Baseball America and No. 5 by Collegiate Baseball, and followed that with a 2014 class that was ranked No. 5 by Collegiate Baseball for the second-consecutive year.
In January 2013, Lees came in at No. 6 on Baseball America's list of the nation's top 10 college assistant coaches; a list compiled from votes of 70 Division I head coaches across the country, as well as the input of more than a dozen scouts. As the primary coach for OSU's infielders, Lees coached 13 Cowboy infielders who have earned All-Big 12 honors over the last three seasons, and in 2015, Oklahoma State recorded a .975 fielding percentage.
Lees arrived at Oklahoma State after spending the previous 11 years on the coaching staff at Oregon State, including the final three (2010-12) as the Beavers' associate head coach. Lees joined the Oregon State staff as a volunteer assistant in 2002 and moved to a full-time assistant coach in 2004. He helped coach the Beavers to three-straight College World Series berths from 2005-07, including back-to-back national championships in 2006-07.
He worked primarily as the defensive coach for infielders and catchers and also spent his last six years as the team's recruiting coordinator. While in Corvallis, he coached 30 All-Pac-10/12 Conference performers and 10 All-Americans. Under his guidance, Darwin Barney was the 2005 Pac-10 Freshman of the Year, while Chris Kunda was named the conference's defensive player of the year in 2006.
A native of Lakeview, Ore., Lees earned his bachelor's degree in physical education from Western Oregon in 1994. He and his wife, Kristy, have three sons, Brandon, Brady and Jacob.