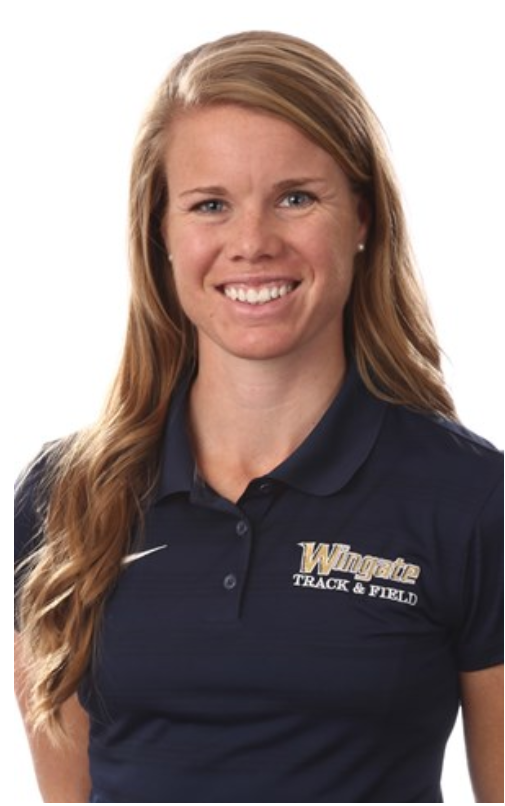 Head Cross Country Coach
Ashley Glover
Ashley Glover begins her fifth season as the head men's and women's cross country coach at Wingate University in the fall of 2019. She also serves as Wingate's distance coach during the track and field season.
In 2018, the Wingate men's cross country team was third in the SAC and sixth in the Southeast Region. Sophomore Micah Kipchumba was All-SAC and All-Region. Senior Dalton Cox joined Kipchumba on the All-SAC second team. The Bulldog women were sixth in the SAC and 11th in the region. Sophomore Julie Diaz was All-SAC second team. Three team members either made honorable mention All-SAC or SAC All-Freshman team.
In 2017, the Wingate men's cross country team finished a program-best second place in the South Atlantic Conference championship meet. Three Bulldogs made the All-SAC teams, led by Kipchumba with his seventh-place showing. The WU women claimed third place in the SAC event, by led by first team all-league runners and Bulldog seniors Madison Hiatt (fifth) and Juliet Salgueiro (sixth).
Glover encourages her runners to achieve greatness off the cross country course as well. Senior Valerie Griesche was the 2018 SAC Woman of the Year, recognizing athletics, academics and service. She earned her second consecutive Academic All-America® recognition in June. Griesche and Nepolian Patel were the SAC Scholar-Athlete of the Year award winners for both cross country and track and field during the most recent year.
In 2016, the Bulldog women claimed second in the South Atlantic Conference race and third in the NCAA regionals, giving the Navy Blue and Vegas Gold-clad harriers their fourth straight trip to the NCAA Division II women's national championship meet. Alyssa Johnson received her third Academic All-America® recognition, while XC teammates Griesche (women's third team) and Jacob Troutman (men's second team) and Valerie Griesche were honored for the first time in their respective careers.
In 2015, the Wingate women's cross country team won its third consecutive SAC title, placing eight runners in the top 16. Six Wingate women received All-SAC laurels in 5K race, while the seventh and eighth Bulldog finishers earned honorable mention All-SAC. Johnson and Sam Haering finished second and third, respectively.
The Bulldogs earned their third consecutive trip to the national championship meet in 2015, finishing second in the NCAA Division II Southeast Regional meet at the WU Cross Country facility. In the spring of 2016, Johnson was named Academic All-America® first team for cross country and track & field.
A native of Monroe, N.C. and a graduate of nearby Piedmont High School, Ashley Vaughn Glover joined the Bulldog family after spending two seasons as an assistant track and field and cross country coach for the Charlotte 49ers. Prior to her time at Charlotte, she was the assistant to the distance coach at the University of South Carolina for two seasons. Glover has deep ties to Wingate, as her mom (Marilyn Smith Vaughn) played tennis for the Bulldogs.
At Charlotte, Ashley Glover assisted in transitioning the program into its first two years as a member of Conference USA. The 49ers produced multiple all-conference performers in cross country, indoor track and outdoor track under her watch. While at USC, Glover helped the Gamecocks produce numerous NCAA qualifiers and NCAA scorers.
Glover is a 2010 graduate of Clemson University, where she received her Bachelor's Degree in health science. She earned a Master of Science degree in sport and entertainment management at South Carolina (May 2012). In addition to her coaching duties at USC, Glover spent 18 months as an academic mentor in the Gamecock athletic department.
During her student-athlete days at Clemson, Glover ran cross country, indoor track and outdoor track four years each. She was a four-time member of the ACC Academic Honor Roll. She capped her Tiger career by helping Clemson win the 2010 Atlantic Coast Conference Women's Outdoor Track & Field championship title.
Ashley Glover and her husband Scott live in Monroe. The Glovers welcomed their first child (Jordan Grace) in September of 2018. They also love their dog, Jenna.