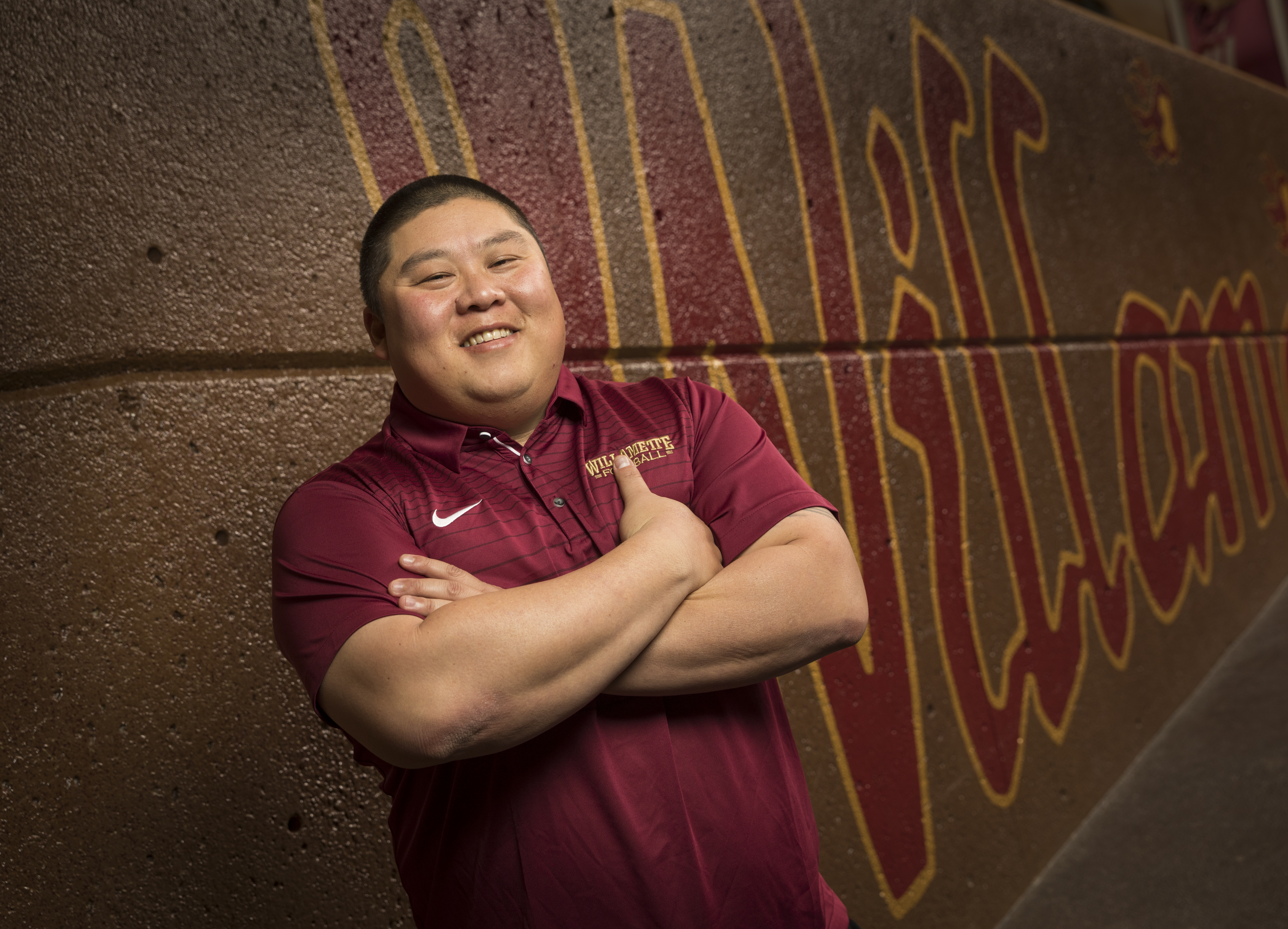 Isaac Parker is the head football coach and offensive coordinator at Willamette University. He previously was the offensive coordinator at Lewis & Clark College from 2015 through the 2018 season. Prior to coaching at L&C, he was the head football coach for three seasons at McNary High School in Keizer, Oregon. Parker played football at Willamette from 1998 through 2002. He began his duties at Willamette on Dec. 5, 2018.
As the head coach, Parker will oversee all aspects of the Willamette football program. He brings exceptional skill and experience to recruiting and player-development.
"We are very excited to have Isaac returning to Willamette to lead our football program," sid. Director of Athletics Rob Passage. "Not only does he bring outstanding teaching and coaching experience, he also adds a tremendous passion for building community within the program, the university and Salem."
As an undergraduate, Parker was a member of Willamette's 1999 Northwest Conference Championship team and participated in the NCAA Division III National Playoffs that season. He was a team captain in 2001 and 2002. He received All-NWC honors two times during his career.
Parker graduated from Willamette with a Bachelor of Arts degree in Religious Studies in 2002. Later, he added a Master of Arts in Teaching from Willamette in 2005.
"I experienced a Willamette University that was formative for me in my life," Parker said. "The summation of my experiences at Willamette — in the classroom, on the football field, in the campus community and in the community of Salem — molded me to be ready for life. In a way, Willamette's motto, 'Not unto ourselves alone are we born,' reinforced my Hawaiian-cultured upbringing, which was to build 'ohana', family, wherever I go."
Parker, originally from Wahiawa, Hawaii on the island of Oahu, graduated from the Kamehameha Schools in Kapalama, then attended Willamette, where he was a three-year starter and a two-year team captain. He received First Team All-Northwest Conference honors as an offensive lineman. Parker earned a Bachelor of Arts degree from Willamette in 2002 and added a Master of Arts in Teaching (MAT) degree from Willamette in 2005.
He began his teaching career at nearby South Salem High School, where Parker coached football, baseball and golf. During his time with the South Salem football team, he served as the Saxons' offensive coordinator and guided the team to several school records for rushing and scoring. In 2008, he helped South Salem win the Central Valley Conference title and he was named CVS Assistant Coach of the Year.
Parker was hired as the head football coach at nearby McNary High School in 2012. At both South Salem and McNary, he also taught mathematics. Parker led a quick turn-around of McNary's football program, as he led the Celtics to the OSAA Playoffs during each of his three seasons from 2012 through 2014. During the 2013-14 academic year, Parker was named the Virtue First Coach of the Year for his commitment to excellence in developing the character of his players.
In 2015, Parker began his collegiate coaching career as the offensive line coach at Lewis & Clark College. During four years on the L&C coaching staff, he proved himself to be a great recruiter, as his recruits earned nine All-Northwest Conference awards, including one player who earned First Team honors twice and one NWC Freshman of the Year.
While at L&C in 2017 and 2018, Parker served as the offensive coordinator. In 2018, the Lewis & Clark running backs rushed for 1,292 yards, while averaging 143.6 yards per game and 4.88 yards per carry. The efforts of the offensive line led to running back Michael Abraham earning unanimous First Team All-NWC honors. Abraham finished second in the NWC with 857 rushing yards.
Also in 2018, L&C's offensive line ranked second in the NWC in fewest sacks allowed. The line accomplished this feat despite seven different starting lineups during the nine-game season. Two of the linemen were named All-NWC, with each receiving the honor for the second time.
In February of 2017, Parker was chosen as one of 25 college coaches throughout the nation who were able to participate in the NCAA/NFL Coaches Academy in Tampa, Florida. The academy was designed to prepare young coaches for leadership roles in their profession.
Additional professional development involving Parker occurred in July of 2018, when he spent the first three weeks of NFL training camp with the Cincinnati Bengals. He received the opportunity as an offensive intern through the Bill Walsh NFL Minority Coaching Fellowship.
Parker lives in Keizer, Oregon, with his wife, Anna, and their daughter, Ella.