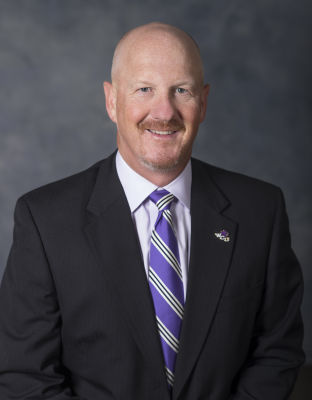 Mark Speir, who has spent the bulk of his collegiate coaching career at the NCAA Football Championship Subdivision (FCS) level, was named head football coach at Western Carolina University as announced by Director of Athletics Randy Eaton during a press conference held in the Ramsey Center on Dec. 22, 2011.
Speir (pronounced "spear"), who got his coaching career start at Western Carolina under former Catamount head coach Steve Hodgin from 1991-96, is the 13th head coach of the WCU football program all-time.
Since his arrival in Cullowhee, Speir has been a driving force in the revitalization of Catamount football, guiding WCU to back-to-back seven-win seasons in both 2015 and 2014, the latter its first winning record in a decade with the 7-5 finish. It was just the second finish above .500 since 2001 for the Catamounts. Speir led the Catamounts to a second-place finish in the Southern Conference in 2014, its highest finish in the final standings since 1986 -- and just the fourth runner-up finish since joining the league in 1977 -- before following it up with a third-place showing in 2015.
For their plaudits, Speir and his staff were finalists for the 2014 Eddie Robinson Coach of the Year Award given at the NCAA Football Championship Subdivision (FCS) level.
During the off-season following the success of the 2014 season, Speir was granted a four-year contract extension which was approved by the WCU Board of Trustees in February of 2015. With the extension, Speir is under contract June of 2020.
Since taking over as head coach in 2012, 28 Catamounts have earned All-Southern Conference first-or-second team accolades while 16 have earned All-Freshman distinction. In 2014, a school-record tying 14 Catamounts received all-conference plaudits with 13 collecting honors following the successful 2015 campaign.
Also, eight players have earned Capital One All-District III selections from CoSIDA with running back Darius Ramsey garnering Academic All-America honors in 2014.
Speir's return to Cullowhee in late-2011 came after spending the nine previous seasons at Appalachian State where he was a part of three-consecutive FCS National Championships from 2005-07, serving as the program's recruiting coordinator from 2004 through 2011 while coaching the inside linebackers prior to the move. He also coached the Mountaineers' running backs (2003-04), defensive line (2005-08) and defensive ends (2009-10) while on staff at Appalachian State.
In 2009, Speir was tabbed as the NCAA Division I FCS Assistant Coach of the Year by the American Football Coaches Association (AFCA). The award has been handed out every year since 1997 at the five levels of football including the NCAA Football Bowl Subdivision (FBS), FCS, Division II and III, as well as NAIA levels.
Prior to Appalachian, Speir also made coaching stops at both at Presbyterian (1997-99) while the Blue Hose were a NCAA Division II member institution, and at Elon (2000-02) the year after the program made the transition to a NCAA Division I school.
A native of Kannapolis, N.C., Speir broke into coaching while an undergraduate at Clemson University, working as a student assistant from 1986 through 1989, helping the Tigers to three Atlantic Coast Conference (ACC) Championships during his four years. Following his graduation with a bachelor's degree in secondary education in 1990, Speir landed on Hodgin's staff in Cullowhee, first working with the running backs from 1991-93, then the linebackers in 1994 before coaching the defensive line and serving as the program's recruiting coordinator from 1995-96.
Throughout his collegiate coaching career, Speir has made a name for himself through the recruiting process. He has held the title of recruiting coordinator at three NCAA FCS institutions (WCU, Elon and ASU), most recently organizing the efforts that landed Appalachian State six-consecutive crops of freshmen that have been widely considered to be among the top in NCAA Division I FCS recruiting classes and that helped the Mountaineers to three-straight national titles.
On the field, Speir has coached multiple All-Southern Conference selections. In all, he was a position coach for nine all-conference honorees that have earned the distinction 13 times in his nine seasons on staff in Boone.
Six of Speir's position players have garnered All-America honors during his tenure at ASU including the most recent recipient, linebacker Jeremy Kimbrough, who was selected to the second team by The Sports Network. Additionally, defensive ends Jabari Fletcher, Jason Hunter, Marques Murrell and Gary Tharrington and defensive tackle Anthony Williams combined for All-America honors a total of six times.
Speir is married to the former Paige Holt of Pickens, S.C., and the couple has two sons -- Zeb, who is in his second year at Appalachian State and a walk-on for the Mountaineer football team, and Jackson.