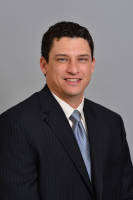 Head Coach
Jonathan Hadra
Jonathan Hadra, a four-year letterman and 2004 graduate of VMI, was named the 20th head coach in VMI baseball history on Thursday, Nov. 13. Hadra had been serving as the acting head coach since Nov. 3, when he was named to that role following the resignation of Marlin Ikenberry, who chose to pursue an opportunity in private business.
Hadra, the 2010 SE Baseball Assistant Coach of the Year, has spent five seasons on this, his second tour of duty with the Keydets, rising to Associate Head Coach prior to the 2014 season. He has worked with the infielders and hitters during the majority of that time, as well as serving as the program's recruiting coordinator since 2011.
Hadra's mentorees include VMI's first conference player of the year in baseball, Rob Dickinson, who hit .399 during his POTY 2013 season and Sam Roberts, VMI's all-time hits leader. Hadra was instrumental in the program's 2010 success that saw the team earn only its second national ranking ever, as he tutored an offense that included Roberts and future major leaguer Cory Spangenburg, who earned multiple Freshman All-American honors during his only season at the Institute.
More recently, Hadra saw Brandon Angus have a breakout 2014 season at the plate, earning Second Team All-Big South honors with a .333 batting average. Defensively, Hadra's infielders helped the team post the third-best fielding percentage in school history (.966) during that 2014 season.
"I'm very excited for Jonathan," said former VMI head coach Marlin Ikenberry. "He has been my right-hand man for the past five seasons, and he is extremely prepared for this opportunity. I'm very excited for his chance to lead this program into the future. He has a great relationship with the players, administration and many college coaches. I will always be a very loyal supporter of VMI baseball and of Coach Hadra."
Hadra also spent the 2009 season at Bradley before returning to VMI, where he had worked in 2005, for the 2010 season. At Bradley, Hadra worked to bring in a freshman class of 16 that was named one of the top recruiting classes in the nation by Collegiate Baseball. Included in the haul were a pair of Junior College All-Americans, a High School All-American and three players that were drafted by MLB clubs.
Prior to this stay at VMI, Hadra spent three years as an assistant at Western Kentucky under current Old Dominion head coach and VMI Hall of Famer Chris Finwood. In fact, Hadra continues a trend that has now seen three of VMI's last four head coaches be former Finwood associates, whether it be as assistant coaches or former players.
At WKU, Hadra oversaw outfield instruction, base running and bunting while coaching first base. In 2008, the Hilltoppers were picked seventh in the league's preseason poll, yet made just the third NCAA Tournament appearance in program history after capturing the conference tournament championship. Also that season, the WKU defense ranked third in the nation with a .976 team fielding percentage.
During his 2005 season at VMI, Hadra worked with the outfielders and assisted instruction in base running, bunting and positional defense.
"Coach Hadra is is mentally tough, hard working, smart and a great communicator," said Tom Slater, VMI head coach during Hadra's cadetship and current roving minor-league hitting instructor for the New York Yankees. "He is a man that I would want my son to play for."
As a cadet, Hadra was a four-year letterman who graduated with a degree in Economics and Business. Hadra served as team captain his senior year and helped the Keydets break the school record for wins during his junior season. His sophomore season, meanwhile, saw VMI finish with a 16-14 mark in the Southern Conference, breaking the program standard for most conference wins.
"I want to thank Coach Ikenberry for being such a huge part of my career for the past fourteen years," offered VMI's newest baseball coach. "He filled so many roles ranging from Assistant Coach to Head Coach to mentor and friend. He has forever left his impression on this program and I am looking forward to continuing his work and making the VMI baseball program one of the best to play for in the country. We have a group of players in our locker room that work very hard and play with a lot of passion and I am very proud to represent them. I am looking forward to competing and preparing with them every day so we can bring a Southern Conference Championship to VMI and the Lexington community."
Hadra is married to the former Allison Toth, and the couple has a four-year old son, Colton, and their second child, daughter Kennedy, born in February of 2013.