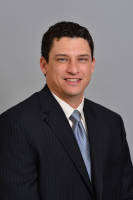 Head Coach
Jonathan Hadra
Jonathan Hadra, a four-year letterman and 2004 graduate of VMI, recently concluded his fifth season as the head coach of the Keydets.
The 2019 campaign should have been a rebuilding year, but VMI had a solid season with a very young team. Picked by the league's coaches to finish ninth in the regular season, the Keydets took seventh and won weekend series against ETSU and Western Carolina in SoCon play. Coach Hadra won his 100th career game in a 6-0 win over ESTU at Grey-Minor Stadium on April 7. Junior right-hander Zak Kent was drafted in the ninth round by the Texas Rangers after setting the single-season program record for strikeouts with 132 in just 97 innings.
In 2018, the Keydets defeated two ACC teams (Virginia and Virginia Tech), beat two ranked teams (South Carolina and UVA) and earned the #4 seed in the conference tournament, marking only the fourth time since 1991 VMI had been seeded at that mark or higher for a postseason tourney. Two of those four times have been under Hadra's leadership. The wins over ACC schools marked the first time since 1994 VMI had beaten two teams from the Atlantic Coast Conference in the same season, and it was the first time since 2007 that the Keydets had beaten two ranked teams in the same year.
The Keydets also made their marks on school records, as outfielder Matt Pita set school records in hits and total bases, Nathan Eaton broke David Groseclose's stolen base record and Collin Fleischer became VMI's all-time home run leader. Pita went on to become one of six Keydets to earn All-Conference honors, the highest such number in school history, and was selected a Third Team All-American - just the third All-American in school history - and the VaSID Player of the Year. VMI then had three players selected in the MLB Draft for the first time since 2008, as Josh Winder became the third-highest draft pick in program annals by being chosen in the seventh round (Twins), while Pita (12th, Yankees) and Eaton (21st, Royals) followed.
The 2017 Keydets won two games at a conference tournament for the first time since 2003, making Hadra just the third head coach in school history to win three postseason games in his time as VMI's skipper. Hadra became the fourth-winningest coach in school history, surpassing one of his mentors, Chris Finwood.
2017 also saw sophomore starting pitcher Winder earn Second Team All-SoCon honors as he set new single-season school records in innings pitched and strikeouts, while becoming the first Keydet pitcher since 2014 to earn all-conference laurels. Winder also became the first Keydet to earn the SoCon Student-Athlete of the Week award three times.
The Keydets also fielded at a .967 clip, the third-best mark in school history, and blasted 77 home runs, one short of 2010's school record. The homer output was helped by Fleischer's 17, the second-most in school history, and Tyler Tharp's 16. Tharp also became the first Keydet to hit three homers in a game since 1996 when he accomplished that feat May 5 versus UNCG, and he was one of two VMI players to earn National Player of the Week honors from Collegiate Baseball, with the other being Winder.
Hadra was named the 20th head coach in VMI baseball history on Thursday, Nov. 13, 2014. In his first season at the helm of the Keydets, Hadra accomplished something not done since 2003, as the Keydets won a main draw game in a postseason tournament. They did it thanks to a go-ahead home run by catcher Matt Winn, who was one of the team's individual stars. Winn was a Johnny Bench Award finalist and a Third Team All-American, the first Keydet upperclassman to make an AA team outright. Winn (14th round, Giants) and Jordan Tarsovich (22nd round, Dodgers) were drafted. In addition, the Keydets set a new team record for stolen bases, helped by Tarsovich's league-leading total and also hit the second most home runs in school history, all in spite of missing three weeks due to weather postponements.
2016 saw 69% of the team's at-bats taken by freshman and sophomores, but Hadra's team finished ninth nationally in home runs. That cause was helped by Second Team All-Conference first baseman Collin Fleischer and All-SoCon Freshman Team outfielder Matt Pita. The squad also finished in the top-40 in Division I in slugging percentage (28th), doubles (18th) and walks (39th).
As a cadet, Hadra was a four-year letterman who graduated with a degree in Economics and Business. Hadra served as team captain his senior year and helped the Keydets break the school record for wins during his junior season. His sophomore season, meanwhile, saw VMI finish with a 16-14 mark in the Southern Conference, breaking the program standard for most conference wins.
Hadra is married to the former Allison Toth, and the couple has three children, son Colton and daughters Kennedy and Brynlee.