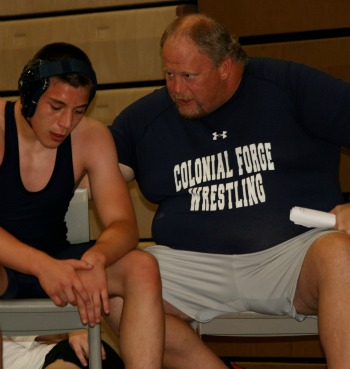 State Chairman
Bill Swink
Bill Swink recently stepped down as the head coach of Colonial Forge High School. The 2016-17 school year will be the first year Bill has not been both coaching and teaching since 1984. He now serves as the Athletic Director at Spotsylvania High School.
Swink was a junior high coach in his hometown of Connellsville, Pa., from 1984–91. He was an assistant coach at Stafford, North Stafford, Hylton and Louisa through most of the 1990s, and was the Wolverines' head coach in the '94–95 season, and the head coach at Osbourn Park in the '95–96 season.
In 1999, Swink became Colonial Forge's first head coach. The Eagles finished 23rd in the state that season. They haven't been worse than sixth since, with three straight team titles from 2007–2009, a fourth title in 2012, and two more the last two seasons in 6A.
In 2015, USA Wrestling's Board of Directors recognized Bill as the 2015 State Chairperson of the Year. In 2016 he was inducted into the Virginia Chapter of the National Wrestling Hall of Fame. In 2017, Bill was awarded the President's award from USA Wrestling.