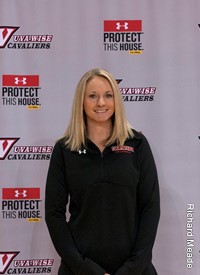 Head Coach
Kristen Salyer
Kristen Salyer will begin her seventh season as head coach of the UVa-Wise volleyball program this fall. The Cavaliers wrapped up their 2017 campaign with a 6-24 overall record and went 2-14 in the Mountain East Conference.
In the 2016 season, Coach Salyer guided the Cavaliers to a 6-3 home record and an 8-8 league mark in 2016. For the first time since 2005, Salyer led the volleyball team to a .500 record or better in conference play in back-to-back seasons after the Cavs went 10-6 in the MEC during their 2015 campaign.
During the 2015 season, Salyer coached UVa-Wise to 15 total wins for the most victories in a single season since taking over the program in 2012. The 15 match wins were the most for UVa-Wise women's volleyball since the 2007 season when the team went 25-16 and advanced all the way to the NAIA National Championship tournament after winning the NAIA Region XII title.
On October 30, 2015, Coach Salyer willed the Cavs to taking a set off of eventual NCAA Division II national champion Wheeling Jesuit University. It was only one of two sets the Lady Cardinals lost against MEC teams and NCAA Division II Atlantic Region opponents the entire year. Even more impressive, Salyer guided UVa-Wise throughout the 2015 season without any assistant coaches.
Salyer has compiled 59 total wins as the head coach and has helped the Cavs reach the MEC Tournament three times since UVa-Wise joined the league in 2013.
Prior to accepting the position as head coach, Salyer served as an assistant under current Director of Athletics, Kendall Rainey. Before beginning her coaching career, Salyer was a standout outside hitter for the Cavs. A four-year letter winner, Salyer earned Appalachian Athletic Conference and NAIA All-Region XII accolades and played an integral role in the school's most successful volleyball season as she aided UVa-Wise to the Region XII title and a trip to the NAIA National Tournament in 2007. She ranks fourth all-time in kills (1,214) and points (1,432.5) at the College, sixth in digs (982), seventh in service aces (107) and ninth in total blocks (194).
A native of Gate City, Virginia, Salyer graduated from UVa-Wise in 2010 with a bachelor's degree in health and physical education. She currently resides in Wise.