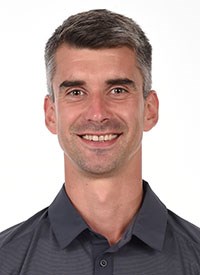 Mira Novak joined the River Hawks in the summer of 2017.
A UEFA A license holder, Novak has coached at the university level in the USA, Canada and United Kingdom.
Prior to his hiring, Novak served one season as an assistant coach at Merrimack College, where he helped the Warriors to a second-round NCAA Tournament appearance, after a second-place, regular-season finish in the Northeast-10. Novak assisted with leading the squad to a the 13-4 record. Additionally, he also worked as the men's soccer team's head of match analysis at Boston University.
He also served as the associate head coach for the men's and women's soccer programs at St. Francis Xavier University. He established himself as a credible performance coach after helping to turn around the women's program and leading the men's team into the conference playoffs. Novak also received the Nova Scotia Coach of the Year award after leading the XFC senior club team to its first ever playoff appearance at the Tier 1 level.
After moving to Scotland, Novak worked for the Scottish Football Association in elite talent programs, and, as the head coach of the regional performance program, coached a number of youth national team players. He also worked as a coach educator, running coaching courses, and helped establish an innovative coach mentoring program. Mira also led the men's soccer team at the University of Stirling to a second-place finish in the highest division of university sports in Scotland.
In his playing career, Novak played at a semi-professional level in the Czech Republic, as well as successfully competing as a student-athlete at St. Francis Xavier University in Canada. During his time at St. Francis Xavier University, he led the X-Men as a co-captain to their first ever No. 1 national ranking, and earned All-Canadian and Conference Rookie of the Year honors.
Novak earned degrees in kinesiology and coaching soccer from St. Francis Xavier University (Canada) and Charles University (Czech Republic), respectively. He is a holder of the Chartered Professional Coach designation, and is currently completing his master's degree in high performance coaching and technical leadership at the University of British Columbia,
Mira currently lives in Cambridge, Mass. with his wife Tory.