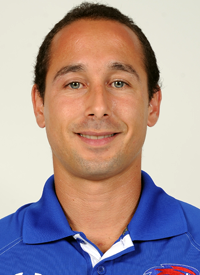 Head Coach
Christian Figueroa
Following a spectacular career as a River Hawk, Christian Figueroa enters his sixth full season as head coach of the UMass Lowell men's soccer program, after going 2-1-1 as an interim head coach in 2010.
After capturing the program's first America East Regular-Season title in 2016 behind a 13-1-2 record, Figueroa has earned the second most wins as a head coach in the program's history and owns an overall record of 59-47-7, including an overall conference mark of 33-20-5. Under Figueroa, the River Hawks have gone 12-12-4 in America East play after finishing 21-8-1 in the Northeast-10 Conference.
Last season, the UMass Lowell graduate and his staff was named the 2016 America East and NSCAA East Coaching Staffs of the Year, and Figueroa added the ECAC Coach of the Year award.
The 2007 UMass Lowell graduate has coached an America East Striker, Goalie, Defender and two America East Rookies of the Year. He has seen five individuals named to the First Team, and four Second Team members, 10 All-Rookie Team players and has had two players named to the All-Academic Team. In addition, he has had 11 players named to ECAC and NSCAA All-East First, Second and Third Teams and an ECAC Rookie of the Year since UMass Lowell joined Division I.
Under Figueroa's watch one of the most accomplished players in program history, Wuilito Fernandes, was named a 2016 MAC Hermann Semifinalist, NSCAA First-Team All American and became the first River Hawk drafted in the MLS SuperDraft.
Fresh off a 3-11-2 finish in 2010, over which he coached the last four matches, Figueroa spearheaded a spectacular turnaround leading the River Hawks to an 11-7-0 record in 2011 - 9-4-0 in the Northeast-10 Conference (tied for third place) - and an appearance in the NE-10 Tournament semifinal.
For his efforts, Figueroa was voted the NE-10 Coach of the Year while eight UMass Lowell players were cited to the NE-10 second, third and All-Rookie teams, including Rookie of the Year Homero Morais.
Figueroa spent four seasons with previous head coaches Bryan Scales and Ted Priestly following an honor-filled career from 2003-06.
One of the programs best-ever midfielders, he helped the River Hawks to a 47-17-14 record (.603), two NCAA Tournaments - including the quarterfinal round in 2003 - and two Northeast-10 Conference Tournament championships. Along the way, Figueroa was the 2003 NE-10 Freshman of the Year and went on to earn all-conference honors and NSCAA All-Northeast Region status three times, culminating with first team honors in 2005 and 2006.
A two-year captain, Figueroa was one of 25 Division I, II and III players invited to tryout for the New England Revolution in February of 2007. He currently ranks tied for 17th on UML's all-time scoring list with 12 goals and 14 assists (38 points); and tied for 10th among career assist leaders.
Outside of UMass Lowell's season, Figueroa is an active coach in the club circuit. Alongside former UMass Lowell assistant Marc Connolly, Figueroa helped lead the FC Stars boys team to back-to-back Massachusetts State Cup championships and Region 1 championship games in 2010 and 2011 in the U-17 and U-18 age groups.
A graduate of North Andover H.S., Figueroa was a Cape Ann League all-star as well as an MIAA All-State and All-Eastern Mass standout. A three-year starter, he led the Scarlet Knights to the Cape Ann League championship in 2000 and 2001 and the MIAA Division II North final in 2000.
A native of North Andover, Mass., Figueroa lives in Dracut, Mass.