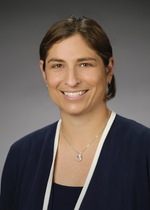 Head Coach
Nicole Lantagne Welch
Nicole Lantagne Welch is coming off of her fifth season as UC Santa Barbara's head coach.
Over the course of her 17-year head coaching career, the former University of Maryland standout has compiled a career record of 306-197 (.608), been named an AVCA Region Coach of the year three times and a conference coach of the year twice (ACC, 2012 & Big West, 2013). Since arriving at UCSB in 2013, Lantagne Welch has had three top 30 recruiting classes, including the 2015 class that ranked No. 18 in the nation, the highest in school history.
Lantagne Welch was hired in February 2013 to take over the reins of the Gauchos' women's volleyball program following the retirement of the legendary Kathy Gregory.
A native of Encinitas, Calif., Lantagne Welch had spent the previous 12 years at the University of Miami, their only head coach since restarting the women's volleyball program in 2001. During her time with the Hurricanes, Lantagne Welch compiled a record of 243-120 for a winning percentage of .669.
Lantagne Welch had a 2012 campaign that saw her squad go 25-6 with a program record 17 wins in ACC play, culminating in a trip to the NCAA Tournament. After the season, Lantagne Welch was named the ACC Coach of the Year and AVCA East Region Coach of the Year. It was the third time she was honored as a Coach of the Year by the AVCA (2008, 2002) and second time she received the ACC honor (2008). The 2012 NCAA tourney trip was the fourth consecutive and fifth overall for the Hurricanes during Lantagne Welch's tenure. Her five All-Region honorees were tied for the most from a single school nationwide.
Miami's deepest run in the NCAA tournament came in 2002, when Lantagne Welch reached the Sweet Sixteen in just her second season at the helm.
Despite restarting a program from scratch, Lantagne Welch recorded winning seasons in 10 of her 12 years on the bench at Miami, including six seasons with 20 or more wins. For her entire tenure, Lantagne Welch averaged just over 20 wins per season.
Lantagne Welch comes from a volleyball-oriented family. Her parents, Joe and JoAnn, owned a successful volleyball scouting service, while her sister, Jenelle, was an All-American at the University of Pittsburgh and has also coached at the Division-I level.
Lantagne Welch was also a highly successful player, finishing as the all-time leader in assists, digs, and matches played at the University of Maryland after an illustrious four-year career as a setter from 1990-1993. She was an All-ACC honoree three times, including First Team nods in her junior and senior seasons.
Her coaching career began at her alma mater in 1994, where she served one year as an assistant coach. She served as a graduate assistant at Ohio University in 1995 before moving to Texas A&M in 1997. Her three-year spell in College Station resulted in three trips to the NCAAs and an Elite Eight appearance in 1999.
Lantagne Welch and her husband, Wesley Paul Welch, were married in 2002 in Encinitas. They have two children - daughter Riley Jaye (born 2004) and son Ayden Fletcher (born 2007).