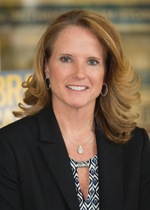 Head Coach
Bonnie Henrickson
UC Santa Barbara hired Bonnie Henrickson as its Head Women's Basketball Coach on Apr. 23, 2015. She is currently in her fourth season with the program after serving the previous 11 years as the Head Coach at Kansas.
Prior to Henrickson taking over for the Gauchos before the 2015-16 season, UCSB had managed just 10 wins over the previous two years, but things would quickly change under her lead. In Henrickson's first season with the program, the Gauchos improved in virtually every aspect on the court. They won more games in 2015-16 than they did in the previous two years combined, going 12-20 overall and 8-8 in conference. Their record was 8.5 games better than the previous year, marking the 13th best improvement in the nation. It also marked UCSB's return to the Big West Tournament after a yearlong absence, where it defeated UC Irvine 62-43 in the opening round. The Gauchos also made huge strides on the offensive end, making 86 more threes (116 percent more) than they did in 2014-15 and improving their field goal percentage from last in the conference (34.9 percent) to third (40.9 percent).
The Gauchos' improvement under Henrickson was easily noticed around the conference, resulting in UCSB receiving a fourth place prediction in this year's Preseason Coaches Poll, five spots up from their last place prediction in 2015-16.
Henrickson was at the helm at Kansas from 2004-15 and led the Jayhawks to the Sweet 16 in back-to-back seasons (2012, 2013). Kansas also earned berths to five Women's National Invitation Tournaments (WNIT), reaching the championship game in 2009.
Henrickson took the reins as a head coach at Virginia Tech in 1997 and coached at the Blaksburg, Va., school through 2004, leading the Hokies to 20 or more wins every season. Under her leadership, the program went 158-62 and made seven postseason appearances, reaching the NCAA Tournament five times and the WNIT twice.
She did not wait long to put her imprint on the VT program, as she led the Hokies to their biggest turnaround in school history. She coached her team to a 22-10 record, its first Atlantic 10 Conference title and an NCAA second-round appearance just one season after the Hokies finished last in the league with a 10-21 record.
After her second season at VA Tech, Henrickson was named Atlantic 10 Coach of the Year, guiding the team to a 28-3 overall record, a 15-1 mark in conference play and a spot in the Sweet 16. In addition, she was a finalist for national coach of the year honors.
On the heels of that season, she was selected as an assistant coach for Team USA, which earned a silver medal at the World University games in Spain during the summer of 1999. She again took her coaching talents to the international stage the following summer as the head coach of women's USA Basketball for the R. William Jones Cup in Taiwan, where she led the team to a gold medal.
Through her career, Henrickson has coached four future WNBA players, 16 all-conference players, and three academic All-Americans.
In 2005, Henrickson was named the Carol Eckman Award winner, which is given by the Women's Basketball Coaches Association to recognize a "coach who exemplifies spirit, integrity and character through sportsmanship, commitment to the student-athlete, honesty, ethical behavior, courage and dedication to purpose."
Before her days as a head coach, Henrickson spent a combined nine seasons as an assistant coach at Virginia Tech (1988-95) and Iowa (1995-97). During her first stint with the Hokies, she served as Carol Alfao's top assistant and recruiting coordinator, helping the team to three consecutive 20-win seasons (1993, 1994 and 1995). In 1994 and 1995, Virginia Tech made its first NCAA Tourney appearances with Henrickson serving as associate head coach.
As the Hokies' recruiting coordinator, Henrickson was credited with signing some of the program's biggest stars, including two All-Americans, the school's all-time leading rebounder, and a conference player of the year.
While at Iowa, Henrickson helped the Hawkeyes reach the Sweet 16 in 1996 and capture two Big 10 Conference Championships. In her two years, Iowa was a combined 45-14, 27-4 in 1996 and 18-10 in 1997. Her final contribution to Iowa before leaving for Virginia Tech was the signing of a recruiting class that ranked 18th in the nation.
Henrickson is a 1986 graduate St. Cloud State University in Minnesota. As a player, she helped SCSU to a 97-25 record, three Northern Sun Conference championships and three NCAA Division II quarterfinals. She earned her master's degree in physical education in 1988 from Western Illinois while serving as a graduate assistant coach.