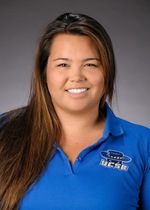 Assistant Coach
Ellie Monobe
Ellie Monobe is in her third season as an assistant coach on Matt Macedo's UCSB coaching staff after spending one year as an assistant at the University of Nevada, Las Vegas. Monobe is predominantly responsible for the stroke/mid distance group and the distance group, where she has help from Mark Stori.
During her time at UC Santa Barbara she has helped lead the team to back-to-back Conference Championships on the men's side and runner-up performances on the women's side. Monobe has also helped in producing 14 conference champions on the men's side, as well as breaking 13 school records. On the women's side she has helped in producing 9 conference champions and breaking 6 school records.
Monobe, a native of Northern California, spent one year in Las Vegas after serving as an assistant coach at UMass during the 2014-15 season. At UNLV, she assisted in virtually all aspects of the Rebels swimming and diving program. From a training standpoint, she specialized in training the individual medley and sprint groups. Monobe helped lead the men's program to a tie for 35th at the NCAA Championship. At UMass, Monobe worked with breaststrokers, in addition to training the IM groups.
Before accepting her position at UMass, Monobe spent the 2013-14 year as head coach of the Sun Valley Swim Team in Lafayette, Calif. She was also a graduate assistant in compliance at San Jose State, where she earned her MA in kinesiology. While at SJSU, she was also the team manager for the Spartan women's swimming and diving team.
Monobe got her first taste of coaching at her alma mater, Cal, where she was an undergraduate assistant/volunteer assistant coach for the Bears' women's team in 2011-12 while completing her BA in American studies.
From 2007-11, Monobe was a four-year member of Cal's women's swimming team. She was a team captain as a senior and won the program's Coach's Award in 2009 and 2011. She was also a member of Cal's NCAA championship teams in 2009 and 2011 and its Pac 10 title team in 2009.