High Performance Camp: Session 2

July 27, 2019 - July 28, 2019
The UC Davis Gymnastics High Performance Camp is dedicated to help gymnasts enhance their skill set through basic fundamentals, technique improvement and skill progressions. The camp is open to any and all participants ages 11-18 and is structured towards high-level optional gymnasts (Level 7-10 recommended). The Aggie coaching staff will emphasize individualized instruction, making this experience both enjoyable and rewarding for each participant.
Time: 9:00am - 4:00pm (check-in begins at 8:30am on Saturday)
Refund Policy: Full Camp CREDIT is given if opting out of camp, you have 1 year to use credit at future Aggie Gymnastics camps and clinics. If camper was dismissed from camp due to disciplinary reasons, as dictated by the Camp Director, no credit will be given.
Hotel Options:
University Park Inn and Suites (1.2 miles from our training facility)
Double Queen room $119/night
To book your room, call the hotel directly at 530.756.0910 and ask for the, "UCD Gymnastics Camp" group rate.
Guests need to book 30 days before the arrival date to receive the discount.
Aggie Inn (within walking distance of our training facility)
Double Queen room $149/night
Below is the information you need to make your reservation.
Group Name: UC DAVIS GYMNASTICS CAMP
Group Code: PS89F6
Check In: Friday, Jun 21, 2019 (3:00 PM)
Check Out: Sunday, Jun 23, 2019 (11:00 AM)
Cutoff Date: Sunday, May 19, 2019
Group Billing Options: Guest is responsible for all charges.
Reserve your room Here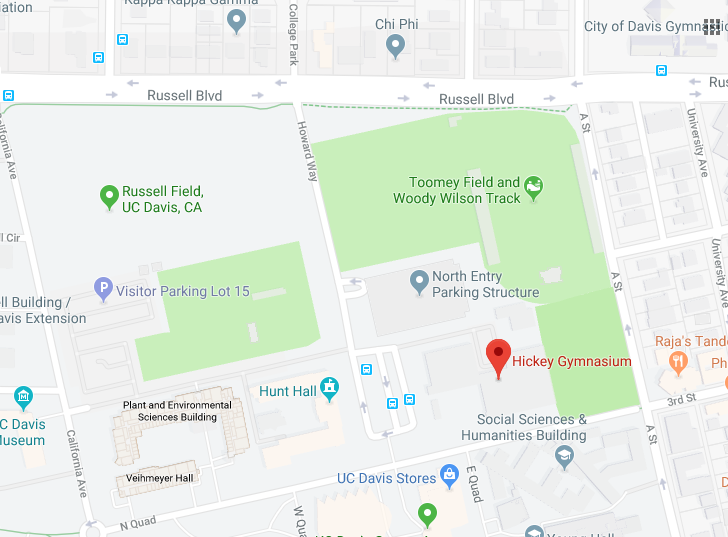 Hickey Gymnastics Training Facility
High Performance Camp: Session 2
Ages: 11 - 18
July 27, 2019 - July 28, 2019 | Davis, California
Sat, July 27, 2019 - Sun, July 28, 2019
350 Howard Way
Hickey Gym 176
Davis
,
California
95616