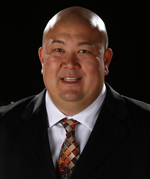 Head Coach
Michael Robinson
Michael Robinson is entering his ninth season at the helm of the Tusculum College volleyball program. Robinson took over the program in spring of 2008, becoming the seventh head coach in the history of volleyball at Tennessee's oldest college.
It has been an outstanding run for Robinson in his first eight years as Tusculum's head coach. He has amassed a solid 155-97 record, giving him the second-highest victory tally in school history, while his .615 won-loss percentage is fourth in the Tusculum record book. In seven years, he has mentored 21 All-South Atlantic Conference honorees, seven All-Region selections, two SAC Freshmen of the Year, 10 SAC All-Freshman picks and the program's first three-time All-American in Caitlyn Dean (2010, 2011, 2013).
His 95 wins in South Atlantic Conference play are already the sixth-most in league history, while his 155 overall victories are ninth in the SAC record book.
He has guided the Pioneers to the SAC Tournament championship match twice in the last six years, while advancing to the NCAA Division II Tournament in five of the last seven seasons.
The 2015 Pioneers boasted a second-team D2CCA All-American in freshman Melissa Mazur, who was the NCAA statistical champion in digs per set with an average of 6.84. Mazur was joined on the All-SAC team by junior Rachel Garnett, who averaged a team-best 2.86 kills per set. Included in the team's 11 victories was a five-set triumph over 25th-ranked Armstrong State in the season opener, which snapped a 28-match home winning streak for the Pirates and marked the Pioneers' first regular-season win over a ranked opponent since 2011.
In 2014, the Pioneers earned their ninth straight winning season after compiling a 16-15 overall record and a 15-7 mark in the SAC. After facing off against four nationally ranked teams to begin the season, TC put together a nine-match winning streak and won six of it's last seven regular season matches to finish fifth in the league standings. Four Pioneers landed on the All-SAC squad led by first team libero selection Moriah Jones. Megan Hasse was a second team honoree while Rachel Garnett and Laryssa Welch earned honorable mention recognition. Welch was also named to the All-Freshman team.