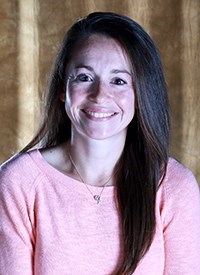 Head Coach
Rachael Sushner
Trinity College is pleased to announce the hiring of Rachael Sushner as its new head women's soccer coach. Sushner, who comes to Hartford from St. Olaf College in Northfield, Minnesota, is the fourth women's soccer coach in the 38-year history of Trinity's varsity program. Sushner, who led St. Olaf to a 27-21-4 record over the past three seasons, replaces Michael Smith.
"We are thrilled to have Rachael Sushner join our family as the leader of the Bantam women's soccer program," said Trinity Athletic Director Drew Galbraith. "Rachael has excelled as a coach, teacher, and mentor during her career and is a great fit for Trinity College with her focus on developing champions in scholarship, sport, and service. We are excited about the leadership Rachael will bring to the Trinity campus and look forward to this next chapter for our women's soccer program."
Sushner took the reins of the St. Olaf program that had gone 9-21-6 prior to the 2016 season and produced winning seasons in each of her three years including a 10-6-2 mark last fall. She led the Oles to the MIAC Championship Tournament twice and the program earned a spot in the conference quarterfinals in 2018. In her three seasons, Sushner coached seven All-MIAC selections and three United Soccer Coaches All-North Region honorees. Her teams also collected the United Soccer Coaches Team Academic Award twice, and three Oles were named to the United Soccer Coaches Scholar All-North/Central Region Teams in Sushner's three seasons.
Prior to St. Olaf, Sushner served as an assistant coach at Washington and Lee University for three seasons and Clarkson University for two years, after starting her coaching career as an assistant at Wellesley College. She helped Washington and Lee post a 45-8-3 record from 2013 to 2015, and was a member of the Liberty League Coaching Staff of the Year at Clarkson in 2011. Sushner currently coaches Team USA for the Pan American Maccabi Games, which will take place in Mexico City this summer. She was also St. Olaf's senior woman administrator beginning in the spring of 2016, and created the Ole Leadership Academy for student-athletes in that role.
"I would first like to thank Drew Galbraith and members of the search committee for providing me with an outstanding interview experience and selecting me as the next women's soccer coach of Trinity College," said Sushner. "From the moment I stepped on campus, I knew that Trinity was a special place. While it's very bittersweet to leave my program at St. Olaf, I am excited to begin this next chapter in my coaching career and take the Trinity women's soccer team to new heights."
Sushner is a graduate of Skidmore College, where she earned a bachelor's degree in business and sociology and was a captain and highly-decorated player for the nationally-ranked Thoroughbreds. An all-conference and all-regional honoree three times each, Sushner went on to play professionally with the Adirondack Lynx and the Boston Breakers of the Women's Professional Soccer League (WPSL) and in Canada for the London Gryphons. She also owns a master's degree from Clarkson in business administration.