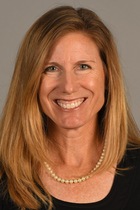 Kelly Ford, who has enjoyed success as a collegiate athlete, community college head coach, and a Division I head coach, enters her seventh season as the head coach of the softball program at Cal State Fullerton for 2018-19.
Coming off a back-to-back Big West Championships, Coach Ford and the Titans went into the 2018 season looking for a third consecutive crown and accomplished it. Fullerton went 18-3 (35-25 overall) en route to their 11th Big West title and made their 28th NCAA Regional appearance.
The team was well represented in the end of the year Big West accolades, including Coach Ford winning Co-Coach of the Year making her the only coach in Big West history to win the award in three consecutive seasons. She saw nine of her players earn Big West honors; four on the First Team, four on the Second Team, one Honorable Mention, and one Freshman Team selection.
After a historic season in 2016, Coach Ford and the Titans made some more history in 2017 as they became back-to-back Big West champions for the first time since 2000-03. With the title in hand, they made their 27th NCAA Division I Softball Regional appearance in Los Angeles.
The championship season came with a lot of individual accolades, including coach Ford winning her second consecutive Big West Coach of the Year. It also included eight players earning Big West honors, three of which were spots on the first team.
Overall, the team finished 35-23 including a magical conference run where they won 12 consecutive games against their Big West opponents. They finished 16-5 in conference, only 1 win shy of the mark they put the year before.
In her fourth season with the Titans, Ford made the 2015-16 season her best yet as she led Fullerton to its first Big West Conference title in 10 years, its 26th NCAA Division I Softball Championship appearance and first regional appearance since 2009 and 45 victories which is the most since 2002.
The historic season lead to a number of accolades for the 2015-16 Titan softball program as they took four of the six major conference awards. Seniors Missy Taukeiaho and Desiree Ybarra took home Player and Pitcher of the Year, respectively, while Sydney Golden was named Freshman Pitcher of the Year and coach Ford was named Coach of the Year.
Nine Fullerton players were also named to the all-conference team with five of those nine earning a spot on the first team.
Statistically, Ford and the rest of the Titan coaching staff continued to make steady improvements in key departments as Fullerton finished the year with a .300 batting average for only the fifth time in program history, had 699 total bases which is the most since 2002 and stole 85 bases for the second-most in program history.
Defensively, the Titans pitching staff was putting up video game-like numbers last year as they finished the season with a 2.22 ERA and 13 shutouts which were the best in those categories since 2007. Also, the fielding continues to be top-notch as Fullerton has finished three of the past four seasons with a .970 fielding percentage or higher, including setting the program record in 2015 with a .975 FLD%.
Ford is the third head coach in the Titans 35-year softball history (Garman, Gromacki) and began her duties at Cal State Fullerton after serving 11 seasons (2002-12) as the head coach at Mount San Antonio Junior College in Walnut, Calif.
Ford guided the Mt. SAC program to four California State Championships (2003, 2005, 2007, 2009), seven South Coast Conference Championships (2003-08, 2001) and has earned South Coach Conference Coach of the Year honors five times. Ford's 11-year career at the community college ends with a staggering 455-102-1 (.816) record.
Ford, who worked with Cal State Fullerton as an assistant coach in 2000 and 2001, brings nine years of experience as an assistant coach at the Division I level, adding time spent at Cal State Northridge with a year (1993) at her alma mater, Oklahoma.
The native of Portland, Oregon played two NJCAA National Championship seasons at Central Arizona College for Clint Myers (now at Auburn University) in 1988 and 1989 before her career with the Sooners under then Head Coach, Jim Beitia. She earned her Bachelor of Arts Degree in Education from Oklahoma University in 1992 and earned a master's degree from Azusa Pacific University in Physical Education with an emphasis in Coaching. She has a three-year-old daughter, Sarah.