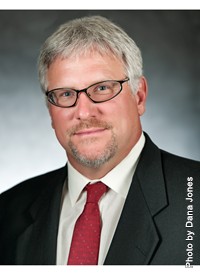 A 2016 ASC Coach of the Year John Pearce enters his fourth season as Sul Ross State University's head football coach.
In his third year as head coach Pearce guided the Lobos to their first winning season in ten years as Sully finished up the 2016 slate with a 6-4 mark, 4-2 in ASC competition.
Sul Ross finished the year at third in the ASC standings, its highest finish since 2012 at fourth. It is also its second-highest finish after tying Hardin-Simmons for first place in 1996.
Pearce, who joined the Lobos after serving as the defensive line coach at Blinn Community College in Brenham, brought more than 20 years of collegiate coaching experience to SRSU when he began his duties with the Lobos in January, 2014.
In his first season, Pearce and his staff got the Lobo program moving in the right direction. SRSU went 2-8, and was competitive in most of their games, losing once by a single points, three times by eight or fewer points, and another time by 15 points.
Pearce joined the Blinn College staff in 2013 after nine years at Prairie View A&M University, including two as defensive coordinator. He has also coached at Catholic University in Washington, D.C; Bowie State University in Prince George County, MD; Shepherd University in Shepherdstown, WV; and Norfolk State University in Norfolk, VA.
A 1991 graduate of the University of Delaware, majoring in health and physical education, Pearce received a master's degree in secondary education from Bowie State. He and his wife, Samantha Krumpe, have two sons, Max and Calvin.