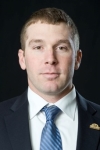 Millersville alum Jon Shehan quickly built the Marauder baseball program into a contender at the conference, regional and national levels. In only nine seasons, Millersville has won six PSAC Eastern Division Championships, two NCAA Atlantic Regional titles, three 40-win seasons, one 50-win season (a PSAC all-time record) and four No. 1 seeds in NCAA regional play. In 2016, his club went 53-7, spent four weeks at #1 in multiple polls, and finished the season as the National Runner-Up in the NCAA Division II World Series in Cary, North Carolina.
Shehan, the 2016 NWCBA National Coach of the Year, three-time ABCA Atlantic Region Coach of the Year, and three-time PSAC East Coach of the Year, inherited a club that went 9-37 in 2007 and has since produced a 313-161-1 record, ranking him second in Millersville history in winning percentage behind only hall of famer Gene Wise. He was only 34 years old when he won notched his 300th win. He also became the only coach to post four 40-win seasons and make six PSAC Tournament appearances. He now has seven postseason appearances under his belt, including six in a row. Shehan's teams reached the NCAA Atlantic Regional as the No. 1 seed in five of the last six seasons, and the Marauders held national rankings in each of the last six seasons.
Shehan received a bachelor's degree in technology education from Millersville in 2006 and a master's degree in sport management in 2013. Shehan and his wife, Lindsay (Millersville '04), are the parents of two sons: Cole and Benjamin.