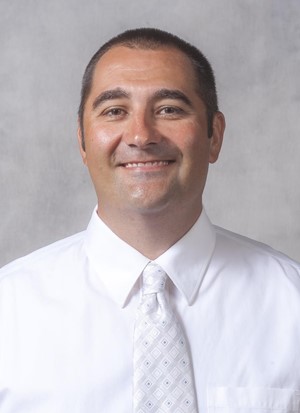 Head Coach
Chad Berryhill
Chad Berryhill, who captured a national championship as head coach at Hillsborough Community College, returned to the state where he enjoyed his greatest coaching and recruiting success, this time as the new head men's and women's tennis coach at Saint Leo University in October 2016.
"Chad Berryhill brings all the qualities that we were looking for in the next mentor for Saint Leo tennis," said Francis X. Reidy, Saint Leo's director of athletics. "His championship experience at the Division II level, demonstrated ability to recruit and develop talent at the highest level, and his knowledge of the larger Florida tennis community will give Chad a head start at ensuring Saint Leo remains at the forefront of NCAA Division II men's and women's tennis."
"I want to welcome Chad and his wife, Mollye, back to the Tampa Bay area, and I know they will be great additions to our community," added Reidy.
Berryhill takes the reins of Saint Leo men's and women's tennis after spending the last four seasons as head coach at his alma mater, Ferris State University, in Big Rapids, Mich. Berryhill guided Ferris State to the "final four" of the 2016 NCAA Division II Men's Tennis Championship.
As Ferris State's head coach, Berryhill was the 2015 and 2016 Great Lakes Intercollegiate Athletic Conference (GLIAC) Coach of the Year. He led the Bulldogs to GLIAC regular season titles in each of the last two seasons, as well as the 2016 GLIAC Tournament. Under Berryhill's tutelage, Ferris State produced the GLIAC Men's Player of the Year in 2014 and 2016, as well as the 2016 GLIAC Freshman of the Year. He also coached an ITA Women's Rookie of the Year in 2014, and 10 of his players – men and women – earned First Team All-GLIAC honors.
Prior to accepting the position at Ferris State, Berryhill was an assistant coach and recruiting coordinator at the University of Central Florida from 2010 to 2012, where he assembled a Fall 2012 recruiting class for the Golden Knights that was ranked No. 17 in Division I by TennisRecruiting.net.
Berryhill began his coaching career as the head women's tennis coach at Hillsborough Community College in 2005, and continued in that role prior to making the move to UCF in 2010. His five-year stint at HCC was highlighted by leading the Lady Hawks to the 2008 National Junior College Athletic Association (NJCAA) National Championship, and reaching the championship in 2006, 2007, and 2009. Berryhill was a four-time Florida Community College Athletic Association Coach of the Year from 2006 to 2009, and the Intercollegiate Tennis Association (ITA) Region IV Coach of the Year in 2008 and 2009.
During his time at HCC, Berryhill coached two ITA Players of the Year, two ITA Rookies of the Year, and six of his players earned ITA All-America honors.
Berryhill's also coached at the Tennissmith School in Tampa from 2005 to 2010, concurrent with his coaching stint at Hillsborough Community College. He coached numerous future Division I players at Tennissmith, including five players currently among the top 400 in the ATP singles rankings.
Berryhill, a native of Lansing, Mich., is a 2005 graduate of Ferris State University with a Bachelor of Science degree in marketing. He went on to receive his Master of Science with a concentration in physical education from the University of South Florida in 2009. He and his wife, Mollye, who hails from Lake Mary, Fla., are the proud owners of a lab terrier, Marley.