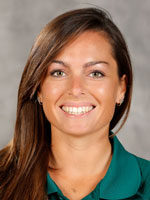 Head Coach
Erin Kinberger
Former standout student-athlete and Saint Leo Athletics Hall of Fame inductee '17, Erin Kinberger (formerly Brunt) was named as Saint Leo University's tenth softball coach, as announced by Director of Athletics Francis X. Reidy in August 2014.
In her seven years as an intercollegiate coach, Erin Kinberger has led her teams to six 30-win seasons, falling just short in her third year of coaching by one win (29), while she led her 2012-13 Tigers team to the most wins under her direction to 47 wins. Coach Kinberger has a seven-year coaching record of 261-104 (.715 winning percentage). At the helm of her alma mater, Kinberger has led her teams to 154 wins and 53 losses with three 39 win seasons and one 37 win season.
Coach Kinberger has led her Lions to back-to-back-to-back NCAA postseason appearances in 2018 with the programs first trip to the NCAA Division II Softball Championships in Salem, Va. where the Green and Gold went 2-2 with wins over No. 3 Chico State (3-2) and No. 1 North Georgia (3-2). On the way to posting a 39-18 record, Saint Leo defeated D2 softball powerhouses North Alabama, at the South Regional in Florence, Ala., and Alabama-Huntsville in the South Super Regional to claim the South Region title. The 2018 deep run into NCAA postseason saw Kinberger and her staff of Madison Holub, Pat Affrunti and Sammy Marshall earn NFCA DII South Region Coaching Staff of the Year.
Under Coach K's guidance in 2018, four players earned All-Sunshine State Conference honors where Kacie Kelly was a first-team selection followed by Ashley Morris, Brittany Creamer and Shyanne DuBois all on the second team. Sarah Pauscher joined Kacie Kelly on the NFCA All-South Region second team as Kelly was named to the D2CCA All-South Region second team as well. Ashley Morris and Shyanne DuBois were named to the 2018 D2 Softball Championship All-Tournament team for their performance in Salem, Va. at the softball championships.