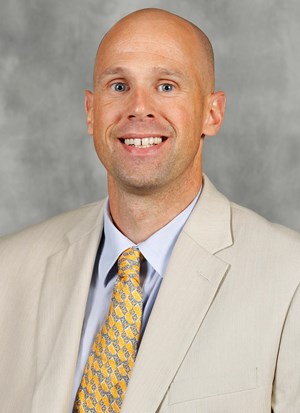 Former Saint Leo men's basketball head coach Lance Randall has been tabbed to retake the position he held for four seasons from 2011-15, announced Saint Leo University Vice President and Director of Athletics Francis X. Reidy, Monday, June 3. Randall, who has spent the last four seasons as head coach of the Lindenwood University men's basketball program, led Saint Leo to the NCAA Tournament in three of his four seasons at the helm and helped guide the Lions to their lone Sunshine State Conference Regular Season Championship in 2012-13.
"We are thrilled to welcome Lance and the Randall family back to Saint Leo," Francis X. Reidy stated. "While there were many talented coaches interested in our position, there was only one in the pool who had won an SSC title and taken an SSC school to three straight NCAA regionals, Lance Randall. Coach Randall has proven that he can win in the SSC and do this at Saint Leo."
"I cannot express the excitement we have to return to Saint Leo University," Lance Randall mentioned. "I greatly appreciate this opportunity offered by Dr. Senese and Fran Reidy. Saint Leo is an amazing place and holds a special spot in the Randall family's heart. My wife Pam and I both have said that this feels like we are coming home."
Randall, who has head coaching experience at both the NCAA Division II and III levels, has a career mark of 190-134 over his 11 years as a head coach including a 78-44 mark at Saint Leo.
Reidy added, "Lance leading the program to the 2013 SSC title and back-to-back 20+ wins seasons remains as one of the greatest achievements in Saint Leo athletic history when considering where the program had been decades prior to his arrival."
"With a veteran team returning, a smooth transition in the leadership of the program, we are looking forward to an exciting year in the Bowman Center," Reidy continued.
Randall continued, "I am very excited to coach and mentor this great group of young men that Vince and his staff have assembled. I am especially looking forward to rekindling the many relationships we have with other coaches, faculty, staff, alumni and the greater Saint Leo community. I know this will be a relative seamless transition due to our familiarity with the caliber of talent and effort required to win the Sunshine State Conference, our intimacy with the campus and our partnership and friendship with Fran and his staff. We are very excited to work to compete for championships with a program the entire Saint Leo community will be proud of."
In Randall's first year at Saint Leo, he led the program to the first winning season in 14 years. His immediate and overwhelming success saw him earn Sunshine State Conference Coach of the Year honors in 2012. Randall's first season on campus also led to the program's first trip to the NCAA Tournament.
The following season, Randall piloted the Lions to the school's first ever Sunshine State Conference regular season men's basketball title. During that season, Saint Leo upset the ACC Champions, the University of Miami Hurricanes, in an exhibition game.
During the 2013-2014 season, Saint Leo surpassed the school record for wins in a season with 24. The Lions also advanced to their third consecutive NCAA Division II Tournament and an appearance in the South Regional semifinal. Randall nearly pulled another outstanding upset while at Lindenwood as his Lions took on Division I power Marquette in a preseason exhibition contest. With the Lions trailing 81-79 late in the fourth quarter, Lindenwood had a three-point attempt at the buzzer fall just short against the Golden Eagles.
In a pattern of history making, Randall led the Lindenwood Lions to their first 20-plus win season at the NCAA Division II level during the 2016-17 season despite having a roster made up of two-thirds underclassmen. Lindenwood finished the year with a 21-12 overall record and a 10-9 MIAA mark. The Lions earned the right to host a first round MIAA Tournament game.
Lindenwood had one of the top defenses in the country in 2016-17, allowing just 68.9 points a game, the 33rd-best mark in NCAA Division II. Offensively, the Lions scored nearly five more points a game, and made the second-most three-pointers in school history with 282.
Adding more experience to his resume, in the Summer of 2017, Randall served as an assistant coach for the Kosovo National Team. Randall was a member of the coaching staff that helped the Kosovo National Team advance out of their pool and into their first ever World Cup qualifying round.
Before his time at Saint Leo, Randall was an associate head coach at Wisconsin-Stevens Point and helped guide the team to the 2010 NCAA Division III National Championship. He also has experience as a head coach at Oshkosh West (Wis.) High School, a head coach at NCAA Division III member Webster University, the head coach for a professional team in England, the Pertemps Birmingham Bullets and as an assistant at Division I Saint Louis University.