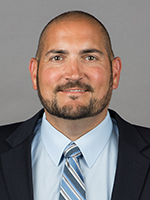 Head Football Coach
Joe Adam
Joe Adam will begin his fourth season as the Head Coach of the Saint Anselm College football team in 2019. Adam was named to the position on Apr. 19, 2016.
Adam came to the Hilltop with more than 20 years of coaching experience with success at all levels of NCAA football, having been a part of two NCAA Division II National Championships. Adam has taken his teams to bowl games and helped a program reach the NCAA playoffs for the first time in the school's history.
He earned his first-career win at Saint Anselm on Saturday, Oct. 22 when the Hawks cruised past Pace by a 42-7 score at Grappone Stadium. Adam also led the Hawks to a 28-17 victory over Merrimack on Senior Day the following week. The Hawks finished his first season by leading the Northeast-10 Conference in passing yards per game (243.7), ranking third in time of possession (32:26), fourth in third-down conversions (41%) and fifth in points per game (22.9).
In 2016, sophomore wide receiver Kyle Hill was a Second Team All-NE10 choice after leading the NE10 in receiving yards (1,091) and receiving yards per game (99.2), while quarterback Yianni Gavalas finished his undergraduate career as the program's all-time leader in nearly every major passing category.
Senior linebacker Eric Mercer captured All-League honors for the Hawks in 2017, highlighting a season that saw the team post a thrilling come-from-behind victory over Pace on Oct. 21. In that contest, the Hawks trailed by a game-high 14 points through the first 20 minutes of play and posted 29 second-half points to complete the comeback. Saint Anselm ranked in the top half of NE10 programs in rushing yards per game, kick return yardage, red zone touchdown percentage and total tackles. The Hawks also played a highly-disciplined style of football, averaging just shy of six penalties per game to rank second in the league.
Saint Anselm had seven of its football student-athletes earn All-Conference honors from the NE10 after the 2018 season, the 20th modern-day football campaign on the Hilltop. The Hawks also competed in several close games throughout the season, posting three losses by four or less points. The season began with a thrilling triple-overtime contest against Stonehill which saw several program records fall, including the most tackles in one game (128), the most field goals made (four) and the most overtimes (three). Senior Daniel Parisi booted those four field goals en route to Fred Mitchell Award Watch List honors during the year.
Prior to coming to Saint Anselm, Adam served as the offensive line coach at Syracuse for two seasons. He helped coach an offense that ranked in the top 10 of the program's past 50 seasons. His offensive line unit finished the season ranked in the top third of DI FBS teams in fewest sacks allowed. He also coached All-ACC selection and NFL free-agent signee Sean Hickey (New Orleans Saints).
Prior to Syracuse, Adam spent eight seasons at Elmhurst College in Illinois, serving as the head coach for the 2013 season. Adam's defense allowed 110 less yards per game than the year before.
With Adam as the team's defensive coordinator in 2012, the Bluejays earned their first conference championship in 22 years, qualifying for the NCAA Division III playoffs for the first time in program history.
Adam also spent time at Western Michigan University and Grand Valley State, winning two national titles with the Lakers including one in 2003 with then head coach Brian Kelly, now head coach at Notre Dame.
Adam received his Bachelor of Science degree in physical education from Grand Valley State. He and his wife, Lisa, have two children, Joe and Jessica.