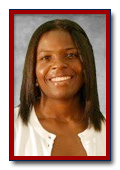 Three-time Big South Coach of the Year Marci Jenkins concluded her seventh season at the helm of the Radford volleyball program in 2014.
Led by four All-Big South performers, Radford claimed its ninth Big South regular season championship 2014. The Highlanders boasted a 24-8 record, including finishing 12-2 during conference play. The program picked up wins versus PAC-12 powerhouse University of California- Berkeley, and University of Maryland who are new members of the BIG 12. For their efforts during the 2014 season, the Highlanders finished with a RPI of 87, which is the highest in program history.
Radford received two of the four major awards: Again both Emma Deininger (Scholar-Athlete of the Year) and Jenkins (Coach of the Year) picked up end of the year season honors. Both in back to back seasons, and Jenkins' Coach of the Year was her third in four seasons.
Jenkins is a 1995 graduate of Virginia Union University. She graduated with honors with a Bachelor's Degree in Secondary Education with a concentration in Mathematics. A four-year starter, she also served as the volleyball team captain her junior and senior years