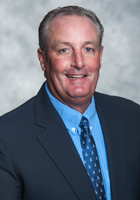 Jim Fleming was named the 20th head coach in Rhode Island football history in December of 2013. He enters his sixth season at the helm in 2019.
In 2017, Fleming saw six of his players earn all-conference honors. Harold Cooper earned CAA Football All-Conference Second Team honors as a running back and third-team recognition as a kick returner. Wide receiver Aaron Parker was named to the second team, while wide receiver Marven Beauvais, defensive tackle Brandon Ginnetti, offensive tackle Dino Boyd and punt returner Matt Pires were all on the third-team. The Rams also had their most victories in seven seasons.
In his second season the Rams earned eight spots on the CAA Football All-Conference Team, the most for Rhode Island since 1995. Sophomore Harold Cooper was a first-team selection as a kick returner and a third-team pick at running back. He also was named to the 2015 Division I All-New England Football Team as a kick returner. Also earning CAA Football All-Conference honors were left tackle Tyler Catalina (second team), linebacker Adam Parker (second team), safety Tim Wienclaw (second team), defensive lineman Mike Ezirike (third team), tight end Charlie McKeeman (third team) and cornerback Myles Holmes (third team).
Though the Rams went 1-11 mark in Fleming's first season in Kingston, the team improved as the year moved along. Five players - linebacker Andrew Bose, fullback Justin Favreau, wide receiver Robbie Jackson, offensive tackle Tyler Catalina and kick returner Myles Holmes all earned a spot on the CAA Football All-Conference Team. Bose was the first Rhody linebacker to earn first-team honors in 16 seasons. He and freshman tight end Charlie McKeeman earned All-America honors from TonySoftli.com. Rhode Island also had 12 players earn a spot on the CAA Football Academic All-Conference Team.
Following the season, Bose signed as an undrafted free agent with the NFL's Baltimore Ravens, while running back Lyle McCombs signed with the Canadian Football League's Toronto Argonauts.
Fleming came to Rhode Island from the University of Central Florida, where he was the defensive coordinator for the No. 15 Knights. In 2013, Fleming helped UCF earn a spot in the Tostitos Fiesta Bowl.
The 2013 season marked the second straight year that Fleming has helped guide UCF to a bowl game. In 2012, the Knights had the top-ranked scoring and pass defense in Conference USA and were ranked 29th nationally in scoring defense en route to a spot in the Beef O'Brady Bowl, where they defeated Ball State, 38-17.
A veteran of 29 seasons of college football, Fleming has coached for teams in CAA Football, the AAC, the ACC, Conference USA, the MAC, the former Atlantic 10 (now CAA Football), the NEC, the Ivy League and the Big Sky Conference.
Fleming spent six seasons at Akron (2004-09) as the defensive coordinator and secondary coach. He helped the Zips win their first MAC Championship and qualify for the Motor City Bowl in 2005.
Prior to Akron, Fleming spent two years (2002-03) as the defensive backs coach at North Carolina. That stint came after his remarkable two-year run as the head coach of Sacred Heart. During their championship run, the Pioneers ranked second in the nation in scoring, pass efficiency and turnover margin, fourth in total defense and seventh in scoring defense and passing yards allowed. Fleming was named the Northeast Conference Coach of the Year in both 2000 and 2001.
A native of New York, N.Y., Fleming also spent two years as defensive coordinator/defensive backs coach at Villanova (1998-99) and four years (1994-97) coaching linebackers (1994) and defensive backs (1995-97) at East Carolina. His 1997 squad ranked second in Conference USA in pass defense, while in 1995, the Pirates finished 9-3 and earned a berth in the Liberty Bowl where they defeated Stanford, 19-13. That season, the ECU defense ranked seventh nationally in pass efficiency defense, producing 33 takeaways and 19 interceptions.
No stranger to the Ocean State, Fleming spent the 1993 campaign as the defensive coordinator at Brown where the Bears went from 0-10 and last place in the Ivy League, to 4-6 and a tie for fourth place in the conference. From 1987-92, he had a successful six-year stretch at Boise State, including the final three seasons as defensive coordinator. His 1991 Broncos' defense led the nation in rushing defense, was third in turnover margin and led the Big Sky Conference in every statistical category. In 1990, BSU finished 10-4 and advanced to the semifinals of the Division I-AA playoffs, leading the conference in scoring defense.
Fleming is a 1982 graduate of the University of the South with a degree in English. While there, he was a four-year starter in football and baseball, earning all-conference honors as a tight end in 1981.
He and his wife, Leslie, have four children: Jimmy, Will, Kate and Meg. Will played tight end/fullback for Akron from 2009-12 and is now on the Rhode Island staff.