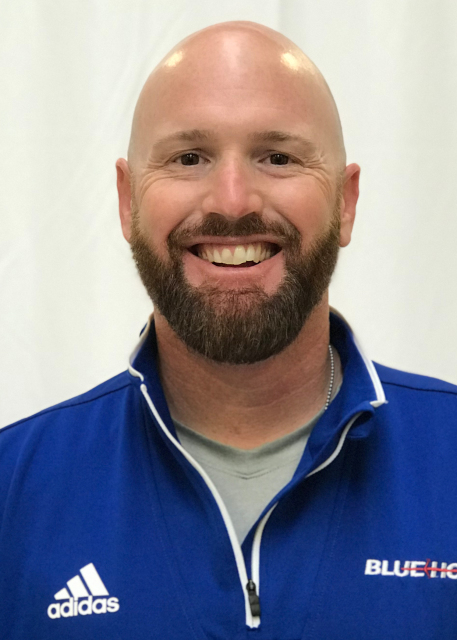 Head Coach
David Williams
David Williams is in his first season as head coach of the Presbyterian College softball program, having taken over in June of 2018. He is the ninth coach in PC's softball history.
Williams spent seven years as the head softball coach at Morehead State. The Greensboro, N.C., native guided the Eagles to Ohio Valley Conference tournament appearances in five of the past six seasons.
Williams led the Eagles to five seasons with more than 22 wins. Morehead State posted a winning record the last two years, for the first time since 2010. Five players earned OVC All-Conference honors the last three seasons. His Eagles were successful in the classroom as well, with his teams never registering under a 3.3 GPA. The Eagles carried a combined GPA of at least a 3.4 the last four seasons.
In 2013, the Eagles finished with the 22nd best batting average in the nation. He coached Chelsea McManaway, who was third in the nation in 2017 in shutouts. She was seventh in the nation this past season in strikeouts.
In 2018, the Eagles finished with 28 wins and an upset win over Southeast Missouri in the OVC Tournament. The 28 wins were the most since the 2009 season.
Williams led the softball program at Mars Hill for six seasons and saw unprecedented success. The Lions had five consecutive winning seasons and earned a trip to the NCAA Division II Regionals in 2010. While leading the Lions, Williams earned 2007 South Atlantic Conference Coach of the Year honors. His 2007, 2008 and 2010 teams finished the year ranked among the top-10 in the region. In 2010, his Mars Hill team ranked second in the nation in defense.
All six of his Mars Hill teams combined for 3.0 grade point averages or better. His 2010 team posted a 3.54 mark to rank as the highest GPA of any team sport in the SAC.
In 13 seasons as a head coach, Williams has amassed a 336-323-1 overall record. He has coached one All-American, one Academic All-American, seven All-Region Selections, 14 All-Conference Selections, one South Atlantic Conference Player of the Year, one South Atlantic Conference Freshman of the Year, five Academic All-Region Selections, and two South Atlantic Conference Scholar Athlete of the Year Selections.
Prior to leading Mars Hill, Williams spent three seasons as the head softball coach at Western Guilford High School. He also led the North Carolina Sun Devils 18-and-under fast-pitch softball travel team.
Williams, who graduated from Guilford College with a degree in management, played baseball at Belmont Abbey (N.C.) in 1996 and 1997 and Emory and Henry (Va.) in 1998.
He and his wife, Jennifer, have one daughter, Adley, and two sons, Brantley and Berkley.