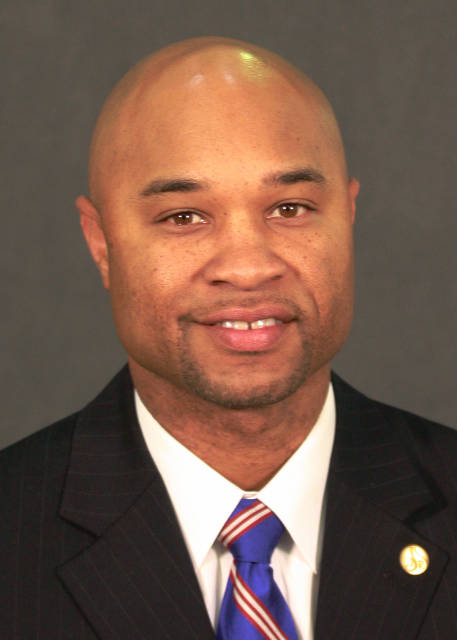 Elton Pollock, a 1995 graduate of Presbyterian College, will begin his 14th season as head coach of the Blue Hose baseball program in 2018. Pollock follows Tim Corbin and Doug Kovash as the third head coach to lead the program since its reinstatement in 1988.
Last season, the Blue Hose turned in their best season since making the move to Division I, coming under Pollock's guidance. PC totaled a Division I era best 32 wins and a program record 15 Big South victories. The Blue Hose finished third in the Big South regular season standings, its best ever finish, before making a run to the conference championship game in just its second appearance in the Big South Tournament. PC had four players named to the All-Big South teams, its most since joining the league, before four PC players were named to the Big South All-Tournament team, PC's first to earn the honor.
PC totaled 47 home runs in 2017, its second-most since moving to Division I, while setting Division I era school records for ERA (4.32), opponent batting average (.262), strikeouts (433) and saves (16). Cletis Avery stole 19 bases on the season, Ryan Hedrick amassed 10 saves and Eric Miles recorded seven wins on the year, all Division I era school records.
In 2016, Pollock led the Blue Hose to its second straight 27-win season, tying the program's Division I era single-season record for wins. PC made the biggest gains in conference play in 2016, winning a school record (at the time) 12 Big South games, a six-game improvement from 2015. The team went on to make its first appearance in the Big South Championship in just its fourth year of being eligible for the event. The team set a number of records in 2016, both at the plate and on the mound, with PC setting single-season records for runs scored (321), RBIs (286), doubles (114) and stolen bases (67), in addition to opponent batting average (.263) and strikeouts per nine innings (7.06).
In 2015, Pollock helped the program to a PC Division I-record 27 wins that included victories over South Carolina, Clemson, UCF (No. 7 at the time) and Indiana (No. 22 at the time). PC ended the season by winning its final seven midweek games and won 21 non-conference games, another program Division I record. Pollock's guidance helped PC earn a First Team All-Big South honoree and an Honorable Mention selection while setting new Division I records in runs scored, strikeouts and strikeouts per game. The Blue Hose posted winning records at the PC Baseball Complex and against other South Carolina programs.
The 2013 campaign saw numerous high points under Coach Pollock, including developing junior pitcher Bud Jeter into a Major League Baseball First-Year Players Draft choice by the Arizona Diamondbacks. Jeter became the first Blue Hose in the Division I era to go in the MLB Draft and incoming freshman Brad Keller went in the ninth round of the draft as well.
PC set new Division I program-best in two key statistics in 2013 as well. The team's .972 fielding percentage shattered the previous best of .966 set in 2012 and the pitching staff's 4.40 ERA improved on 2011's previous record of 5.34 by nearly a full run. The Blue Hose also took series from strong programs like UConn, Charlotte, Wofford and Furman.
Pollock, a former two-sport standout at Presbyterian College from 1992-1995, returned to his alma mater in 2002 after spending seven years in the business world. While attending PC, Pollock earned a Bachelor of Science degree in Sociology with a minor in Computer Science. He was a three-year letter winner with the football team and a four-year letter winner with the baseball team. Pollock finished an impressive baseball career at PC and is still in the top five in many career offensive categories, including homeruns (34), slugging percentage (.616), triples (11), runs scored (169), and total bases (382).
Following his graduation, Pollock was drafted in the 15th round of the 1995 Major League Baseball Draft by the Pittsburgh Pirates. He spent three years in their minor league system before retiring in 1997. During his time with Pittsburgh, Pollock was mentored by the late Major League Hall of Famer Willie Stargell. He finished his professional career with a .250 batting average, 25 doubles, seven homeruns, and 49 stolen bases. Pollock was named "Player of the Month" for the entire organization for his play in August of 1995. That same year he helped lead the Augusta Greenjackets to the South Atlantic League Championship.
Pollock is married to the former Karen Prioleau of Greenville, SC, and the couple has four children, Madison, Lauren, Jordan and Trey. The family lives in Irmo, S.C.