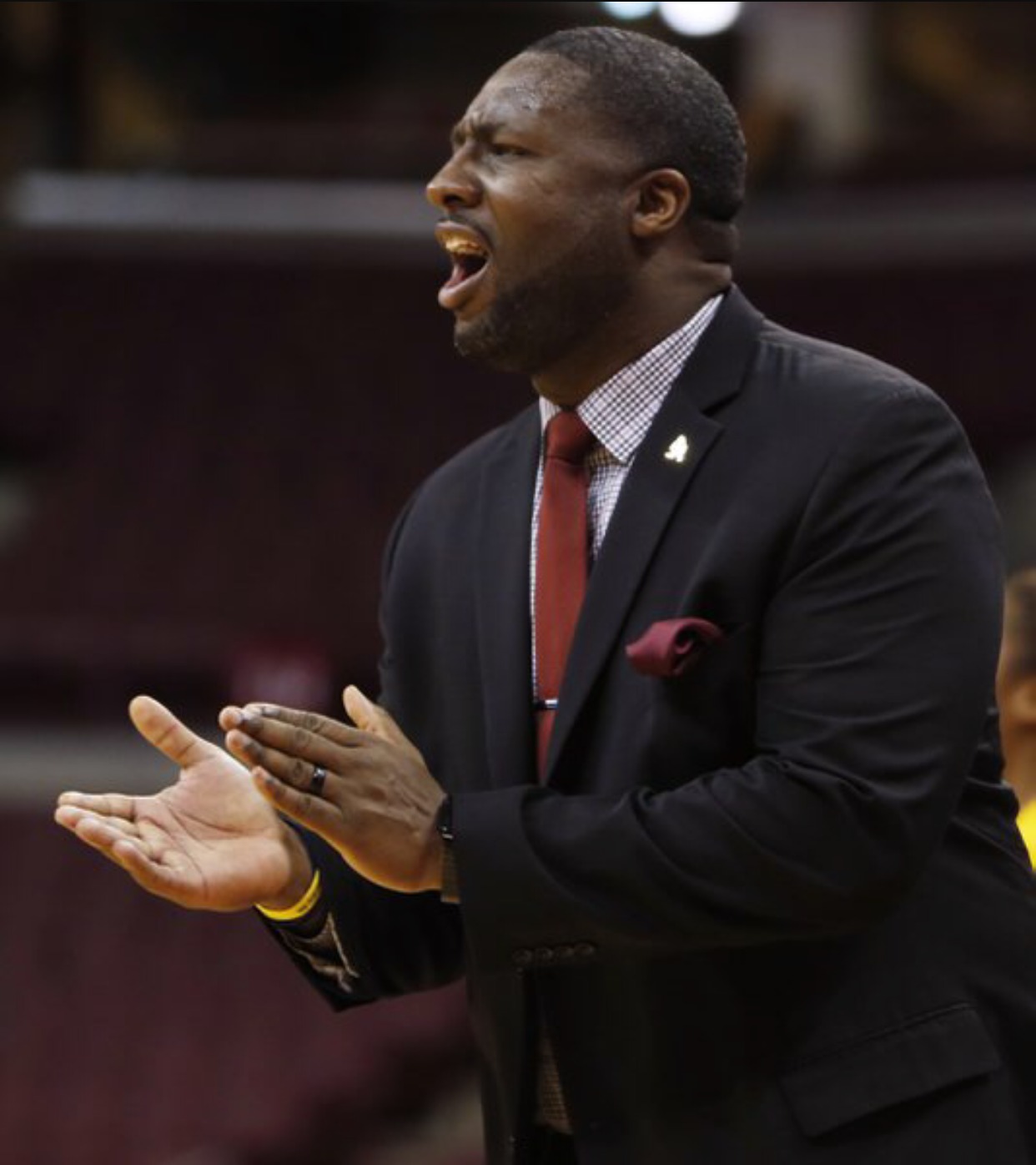 Head Coach
Tarrell Robinson
Tarrell Robinson is already one of the most impactful figures in the history of Aggies basketball from his time as a men's player to now his substantial status as the head coach of N.C. A&T women's basketball. He came to the N.C. A&T as an assistant in 2005 and since that point the women's program has produced six Mid-Eastern Athletic Conference titles, three MEAC tournament titles, two MEAC Rookies of the Year (Eboni Ross, T'Wuana Cook) and a MEAC Player of the Year (Brittanie Taylor-James).
Tarrell Robinson was named the sixth head coach in the history of the North Carolina A&T women's basketball program on May 2, 2012. Robinson is among the best and brightest young coaches in women's basketball. He has won two MEAC tournament titles, three MEAC regular-season title, has five postseason appearances including two NCAA berths and three WNIT appearances and has finished first in various MEAC regular seasons all by the age 40.
Robinson has compiled an 142-79 record over seven seasons and ranks second all-time on the wins list in program history. He is the only basketball coach in school history (men or women) to open their respective N.C. A&T tenure with three consecutive 20-win seasons. Robinson's teams have also been stellar in the classroom. In 2015, it was announced the Aggies had a perfect single-year APR score of 1000. Five players on Robinson's 2015-16 team had already earned their undergraduate degrees. Four of those players were and still are pursuing master's degrees while the other one pursued another undergraduate degree.
In his first season as head coach, Robinson inherited a talented team, including three players – Amber Calvin, Nikia Gorham and JaQuayla Berry – he recruited to the program. Robinson used that talent to win 22 games in his rookie season, which is more wins than any other first-year coach in program history. When Gorham went down with a knee injury midway through the season, Robinson inserted redshirt freshman center Eboni Ross in the lineup. Ross went on to win MEAC Rookie of the Year honors.
Robinson returned to N.C. A&T after spending three years as an assistant coach, recruiting coordinator and associate head coach at Virginia Commonwealth under head coach Beth Cunningham. Before his stint at VCU, Robinson spent four successful seasons at N.C. A&T under legendary head coach Patricia Cage-Bibbs. Robinson made a name for himself as a talented recruiter, having brought in highly-touted players to N.C. A&T and helping to lead the Aggies to consecutive MEAC regular-season championships starting in 2007.
From 2007-09, Robinson and his recruits helped the Aggies compile a 51-15 record and their first MEAC tournament championship since 1994, when they took the title in 2009. The MEAC championship win earned the Aggies a berth to the NCAA Tournament in 2009 as they were awarded a 14th seed, the highest seed for an HBCU team at the time. Cook, Sams, Taylor-James and Berry are all 1,000-point career scorers and all-conference performers. His tenure as an Aggie assistant also yielded 13 all-conference selections. He was promoted to associate head coach prior to the 2008-09 season.
After leaving N.C. A&T for VCU, Robinson continued to excel as a recruiter. He was promoted to associate head coach in May 2011 at VCU after serving as the program's recruiting coordinator. He helped the Rams make three-consecutive postseason appearances from 2009-12. The Rams also made it to the third round of the WNIT in 2010 and 2012. He helped land back-to-back classes that ranked among the best in the Colonial Athletic Association, including players that ranked among the Top 30 in their respective positions.
Robinson first made his mark at N.C. A&T as a student-athlete at N.C. A&T. He played on the men's basketball team from 1997-2001, and had a stellar playing career at N.C. A&T. He scored 934 career points, grabbed more than 700 rebounds and blocked 35 shots during his career. He led the Aggies in rebounding his junior season. Robinson attended E.E. Smith High School in Fayetteville, N.C., where he was an Honorable Mention McDonald's All-American and lettered three years on the varsity level. He was an all-conference and all-regional performer as a senior and led the Golden Bulls to a conference championship and regional runner-up finish in the state playoffs.
Robinson earned his B.A., degree in psychology in 2001 from N.C. A&T and was enrolled in the graduate program at N.C. A&T, where he was a candidate for a master's degree in Human Performance and Leisure Studies.
Robinson and his wife, Kelli, have three children, Jordan, Jada and Lauren.