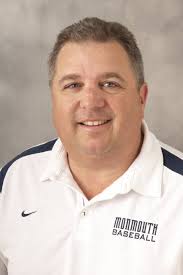 Ehehalt enters his 24th season at the helm of the Monmouth baseball program in 2017, having just completed year four in the Metro Atlantic Athletic Conference.
On March 28, 2015, Ehehalt earned his 600th career victory in a walk-off win in extra innings against Manhattan to open league play. To date, he has compiled 648 wins as a head coach, with 627 of them coming at Monmouth. Ehehalt, a three-time recipient of the NEC Coach of the Year, and an eight-time honoree of the NJCBA Coach of the Year, has guided the Hawks to 18 Conference Tournament appearances since 1996. He also led Monmouth to 11 Conference Championship games since 1998, and 4 NEC titles and NCAA Regional appearances in 1998, 1999, 2007, and 2009. Under Ehehalt's direction, the Hawks have amassed 22 consecutive 20-win seasons and nine 30-win seasons, while appearing in 73 postseason games.
In addition to success leading his players during their four years in West Long Branch, Ehehalt saw his first former player reach the Major Leagues in 2011 (Brad Brach, San Diego Padres). Brach is now a key member of the Baltimore Orioles bullpen, earning a win in Game 2 of the 2014 ALDS against Detroit after going 7-1 in the 2014 regular season. Pitcher Pat Light also became Ehehalt's first player drafted in the first round of the MLB Draft in 2012 (Boston Red Sox, 37th overall). Light made his Major League Debut on April 26th this spring.
Ehehalt arrived at Monmouth after spending the 1992 and 1993 seasons at Upsala College where he implemented the resurgence of the Division III program. After finishing 5-22 in his first season, Ehehalt guided a predominantly freshmen squad to a 16-16 mark in his second campaign.
The Middletown, N.J., native spent the previous year as an assistant coach at Kennesaw State College in Marietta, Ga., where he was directly responsible for all aspects of defensive play and recruiting. Ehehalt spent the Fall of 1989 as an assistant coach at Princeton University where he was involved in recruiting, hitting fundamentals and outfield play. Ehehalt began his coaching career in 1988 as a graduate assistant at his alma mater, East Carolina. He graduated in 1987 with a B.S. in physical education. In 1990, he earned his second degree from the school, receiving a master's in education, in the discipline of physical education.
As a senior at East Carolina, Ehehalt was named to the 1987 CAA Scholar-Athlete team. The same year, the Pirates won the league tournament championship.
Prior to his arrival at ECU, Ehehalt played two years at Brookdale Community College, where he was named first team Junior College All-Region XIX in 1984.
Besides directing baseball clinics and summer camps at Monmouth, Ehehalt has also worked camps throughout the country.
Ehehalt, who was on the NCAA Regional Baseball Advisory Committee, was named National Chair of the ABCA All-America Committee in December of 2007.
Ehehalt resides in Wall, with his wife, Lee Ann and daughter, Kelsi Mae, who is a Monmouth graduate.