All winter camps will be conducted in Boylan Gymnasium, located on the Monmouth University campus. The indoor batting cages and indoor mounds are located in Boylan Gym. All participants must enter through the main entrance of the MAC and you will be directed to the baseball area. Directions to the Multi-Purpose Activity Center can be found on www.monmouthhawks.com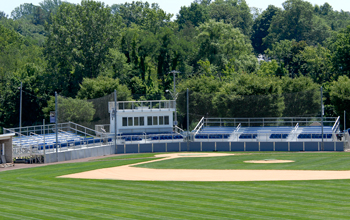 MU Baseball Field
As you enter the Monmouth University campus off Larchwood Avenue, and take a glance to your left, you are greeted by the Hawks' state-of-the-art Baseball Complex. Set across from the MU Athletics building, the natural grass facility hosts the four-time NEC Champion Hawks baseball team. Another piece of the grand puzzle that makes up Monmouth's athletic complexes, the field does its job of holding the fans just about as well as the Hawks do to pack them full. After setting a new school-record for wins with 37 in 2008, the Blue and White won their fourth Northeast Conference Championship, earning their fourth trip to the NCAA Regionals in 2009 (appearances in 1998, 1999 and 2007). Over the past decade, the Hawks have seen seven of their own drafted by MLB teams, including Brad Brach, Kyle Higgins, Ryan Buch and Brett Brach in the last two years.
Field Dimensions:
    Left Field: 325 ft.
    Center Field: 395 ft.
    Right Field: 325 ft.