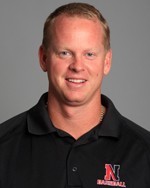 Mike Glavine begins his third season as head coach of the Northeastern baseball team in 2017 and 11th season overall with the program, having previously served as the Huskies' fulltime assistant and recruiting coordinator.
A Northeastern Hall of Fame Class of 2006 inductee, Glavine donned the NU red and black between 1992 and 1995, hitting .276 slugging .545 during his playing career. Upon graduating from Northeastern in 1996, he enjoyed a 10-year professional baseball career, returning to the Huskies in 2007 as an assistant coach where he worked primarily with the infielders and hitters.
In September 2013, Glavine was named Neil McPhee's successor as head coach. McPhee retired at the conclusion of the 2014 season after serving as the Huskies' head coach for 29 years.
Glavine made a smooth transition into his first head-coaching role during the 2015 campaign, leading NU to 14 CAA victories, the most the program had witnessed since its inaugural campaign through the conference in 2006 (19). Under his first-year mentorship, Northeastern achieved its first top-three finish in the CAA in nine years and downed No. 15 College of Charleston, earning the program its first victory against an NCBWA ranked opponent since 2008. He also coached six student-athletes to CAA postseason awards, most notably placing starting pitcher Dustin Hunt on the All-CAA Second Team.
A native of Billerica, Massachusetts, Glavine spent four years at Northeastern and left as one of the most prolific hitters in Huskies history. He made a big splash during his freshman season, batting .307 with 19 extra-base hits, including a school-record nine triples. During his career, the first baseman hit 28 home runs and knocked in 110 RBI, which placed him third and ninth, respectively, in the school's all-time record book. The left-handed slugger also accumulated 120 career walks, second most all-time at Northeastern.
After graduating from Northeastern, Glavine spent 10 seasons in professional baseball after being drafted by the Cleveland Indians in 1995, with most time coming at the Double A and Triple A levels. In 2003, the New York Mets called Glavine up to the major leagues for the final month of the season, where he played with his older brother, Tom. He notched his first major league hit during his last game with the Mets on Sept. 28, 2003 against the Florida Marlins. He became the third NU alumni to play in the major leagues, joining George Yankowski and Carlos Pena.
Glavine, who retired from baseball in 2004, lives in Lexington, Massachusetts with his wife, Carissa, two daughters, Ava and Sophia, and son, Luke.
THE GLAVINE FILE
As of May 2016
- Coached 10 student-athletes to 12 All-CAA selections, including one First Team, three Second Team, and eight Third Team honorees
- Placed two student-athletes on the CAA All-Academic Team
- Guided three student-athletes to eight CAA Pitcher of the Week selections
- Coached three student-athletes to three CAA Rookie of the Week selections
- Mentored catcher Josh Treff to two Johnny Bench Award Watch List appearances (2015, 2016)
- Coached starting pitcher Aaron Civale to a 2016 Louisville Slugger All-American Third Team selection