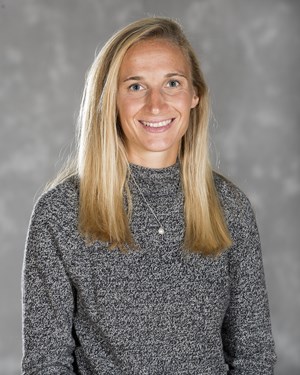 Leigh Howard enters her first season as the head coach of the Marist women's soccer team.
Howard most recently served as an assistant coach at Bucknell for the past three seasons. The Bison reached the NCAA Tournament each of the last two seasons, and compiled a record of 39-17-5 in her tenure.
At Bucknell, Howard was part of a coaching staff that earned NSCAA Regional Coaching Staff of the Year honors in 2016. In August 2017, she was chosen to the United Soccer Coaches' 30 Under 30 Program.
Prior to her arrival at Bucknell, Howard was a coach and student-athlete at Trinity College. As a coach, she helped lead the team to its best season in program history in 2013. The Bantams posted a school-record 13 victories (13-4-1) and won a game in its very first NCAA Tournament appearance. That team was ranked No. 1 in the New England Region for part of the season and finished in the national top-25 for the first time.
Howard was involved with all aspects of the Trinity program on and off the field, and she recruited a student-athlete who became the NESCAC scoring leader and Rookie of the Year in her first collegiate season. Howard developed an annual Alumni Day event along with an online networking group that helped increase the program's alumni involvement by 250 percent. Howard also implemented an academic support program, which helped lead to a combined team grade-point average of 3.5.
Since June 2014, Howard has served as head coach with the FSA FC United ECNL U18 club team, and she has been an assistant coach in the Connecticut Olympic Development Program.
During the spring of her junior year at Trinity, Howard interned with Amandla EduFootball in Cape Town, South Africa. She helped organize and supervise leagues in 11 children's homes the Cape Town area, and she helped organize the Crime Prevention League in the township of Khayelitsha. Howard went abroad again in the summer of 2013, this time to Grenada, Nicaragua with the Soccer Without Borders program.
As a student-athlete at Trinity, Howard's point total of 69 ranks third in program history. She tied the single-season program record with 26 points as a sophomore, served as team captain as a senior, and was the program's first four-time All-NESCAC selection.
Howard earned a bachelor's degree in psychology from Trinity in May 2012, and a master's in American studies in May 2014.