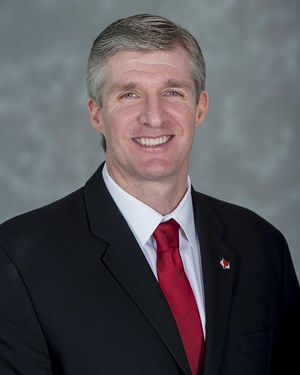 John Dunne, who has earned a sterling reputation regionally and nationally, was hired as the 12th head coach in Marist men's basketball history on April 3, 2018. The 2019-20 season will be his second with the Red Foxes.
In his first season at Marist in 2018-19, Dunne guided the Red Foxes to their highest win total in five years, their longest winning streak in four years, and their highest total of road victories in 11 years. Ryan Funk became the first player in program history to be named Metro Atlantic Athletic Conference Sixth Man of the Year, and Brian Parker was named Third Team All-MAAC. Prior to arriving at Marist, Dunne served as head coach at Saint Peter's University from 2006-18. He guided the Peacocks to the 2011 MAAC championship, and 2017 CollegeInsider.com Tournament (CIT) championship. From 2012-13, Dunne served as chair of the NCAA Men's Basketball Rules Committee. He also served a three-year term (2013-16) on the NCAA Division I Regional Advisory Committee, and has been a member of the MAAC Men's Basketball Committee for the past seven seasons. In 2011, he was named a national finalist for the Skip Prosser Award, which honors those who achieve success on the court while displaying moral integrity off of it. In his tenure at Saint Peter's, Dunne coached 10 1,000 point scorers, 13 All-MAAC selections, three MAAC All-Rookie Team selections, four MAAC All-Tournament selections (including a MAAC Tournament MVP), and a MAAC Defensive Player of the Year. His teams went 3-3 against Rutgers, and also recorded victories against Alabama and Seton Hall. Dunne began his head coaching career at Saint Peter's in the 2006-07 season. The Peacocks increased their win total in each of his first five seasons, which culminated with the program's first 20-win season in 20 years and a berth in the NCAA Tournament in 2010-11. In the 2009-10 and 2010-11 seasons, Saint Peter's finished second nationally in field-goal percentage defense. The Peacocks ranked 18th nationally in defensive efficiency in the 2016-17 season. Prior to his arrival at Saint Peter's, Dunne served as an assistant coach at Seton Hall University from 2001-06 under head coach Louis Orr. In this time, the Pirates reached the NCAA Tournament twice and Postseason NIT once. He worked at Siena College from 1999-2001 under Orr (2000-01) and Paul Hewitt (1999-2000) as the Saints compiled an overall record of 44-20 in this time with two MAAC regular-season MAAC championships and a trip to the second round of the Postseason NIT in 2000. His first stop in the MAAC came at Manhattan College under head coach John Leonard in the 1998-99 season. From 1996-98, Dunne served as an assistant coach at Adelphi University. Working on the staff under the direction of current Charlotte Hornets head coach Steve Clifford, Adelphi posted a 43-17 record in Dunne's two seasons on staff. He had two stints as an assistant coach at Wilkes University from 1992-94, and the 1995-96 season. The 1995-96 season saw Wilkes advance to the Division III Elite Eight with a 28-2 record. Between these stints, Dunne secured his first Division I assistant coach job at Western
Michigan University during the 1994-95 season. A native of Queens, Dunne played scholastically at Archbishop Molloy under legendary head coach Jack Curran. He went on to play at Ithaca College, where he was a four-year letterwinner who ranked as the program's all-time leader in steals and third in assists at the time of his graduation. Dunne earned a Bachelor's degree in Psychology from Ithaca in 1992, and a Master's degree in Sports Management from East Stroudsburg University in 1996.