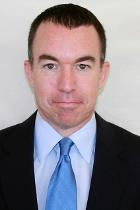 Bob Walsh comes to UMaine with nearly 20 years of highly successful Division I and Division III coaching experience. Most recently, for nine seasons he was head coach at Division III power Rhode Island College. Under Walsh's leadership, the Anchormen posted an overall record of 204–63 (.764 winning percentage) and made eight straight trips to the NCAA Division III Tournament.
Prior to guiding Rhode Island College, for seven years Walsh was an assistant coach at Division I Providence College. In his seven seasons at Providence, the Friars' record was 182–146 (.555). In 2004, Providence attained the highest NCAA tournament seed in the school's history (No. 5) and the highest national ranking in 25 years (No. 12). That year, as well as in 2000, Providence posted its best Big East record of 11–5. Walsh led Providence to four 20-win seasons, two regular season league championships and six post-season appearances.
"I am excited to welcome Coach Bob Walsh to the Black Bear family," says Creech. "His time at Rhode Island College has been the most successful in the history of the program. In addition to his head coaching experience, Bob has 11 years of experience as a Division I assistant at Providence College, the University of San Diego and Iona College. Bob is a true student and teacher of the game of basketball, and shares his passion for leadership through his Dynamic Leadership Academy. Coach Walsh is highly respected in the college basketball community and ready for the challenge of leading and rebuilding UMaine's Division I program."
The UMaine search committee, led by Seth Woodcock, UMaine associate athletic director for development, was charged with finding a candidate who had substantial and successful head coaching experience, substantial experience at the Division I level, New England recruiting connections, and the proven ability to build and maintain a high-achieving college basketball program with an emphasis on and record of academic achievement.
"Bob Walsh is a perfect fit to lead our men's basketball program," Woodcock says. "He is a proven winner with a successful system built on the principles of accountability, trust, commitment and good old-fashioned hard work. His blue-collar work ethic, steadfast character, toughness and drive to succeed will resonate with our fans and community, and — most importantly — motivate and position our student-athletes to achieve their goals, both on and off the court. I couldn't be more excited about Bob being named our next head coach and about the future of UMaine basketball under his leadership."
Walsh earned a bachelor's degree in sociology from Hamilton College in 1994 and a master's degree in mass communications from Iona College two years later.
"I'm excited to begin the challenge of establishing a championship culture at the University of Maine as the leader of the men's basketball program," Walsh says. "I can't wait to be a part of the excellent academic and athletic culture at UMaine, and to embrace the energy and passion of the community."