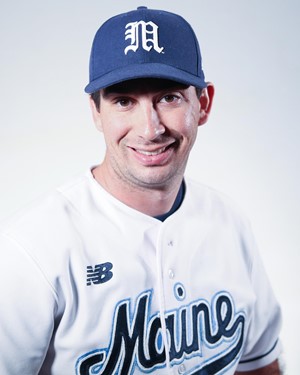 Assistant Coach
Matt Marsh
Matt Marsh joined the UMaine coaching staff in August 2017 as a volunteer assistant coach.
He joined the Black Bears after most recently serving as the general manager at Motus Academy, a 16-team player development program based in St. James, N.Y.
While at the academy, Marsh was responsible for managing the recruitment process for players, creating recruitment videos, managing budgets and building schedules for tournaments, league play and practices and oversaw 72 players go on to play collegiately.
Marsh was also the junior varsity head baseball coach at Ward Melville High School in East Setauket, N.Y. in 2016 and 2017, going 30-9 while earning Section XI League I JV Coach of the Year honors and a league title in 2017. He has been coaching travel baseball teams since 2010, with stops at the Long Island Patriots, New York Nationals and Long Island Lookouts and in 2011, Marsh started his own organization, the Longhorns Baseball Club.
Marsh earned his BS in Finance and Information Systems from Loyola University Maryland in 2015 and is currently pursuing his MBA from the University of Maine